PRIVATE SECTOR HALL OF FAME
What were the greatest biopharmaceutical innovations of the past half century?
Prix Galien juries rigorously selected life-changing therapeutics each year, aggregating the winners worldwide into a powerful repository of the best of the best. To learn more about the R&D teams who have developed Prix Galien award-winning products, consult our Book of Innovation. If you were a member of one of these remarkable teams, your story interests us. Reach out and inscribe yourself in our historical recount. Our objective is to build a rich community where patients and R&D teams can share stories and experiences.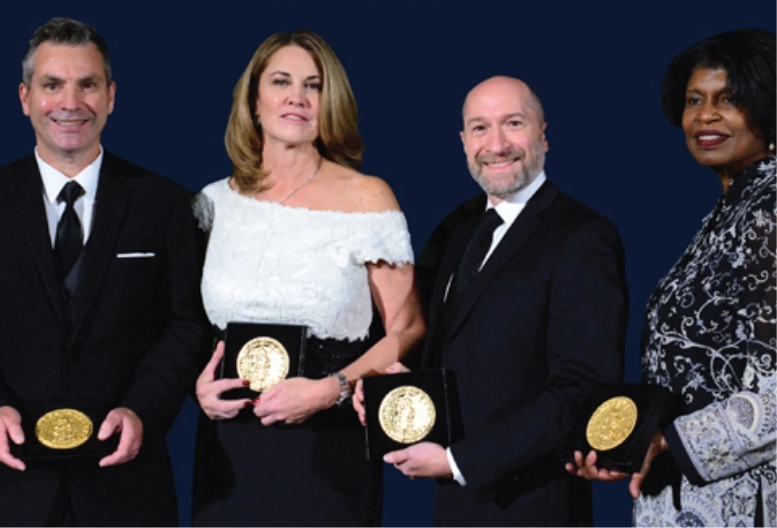 | | WINNING PRODUCT | WINNING TEAM | CATEGORY | THERAPEUTIC AREA | COUNTRY |
| --- | --- | --- | --- | --- | --- |
| 1971 | Lomudal | FISONS | BEST PHARMACEUTICAL PRODUCT | PNEUMOLOGY | FRANCE |
| 1972 | Lipavlon | ASTRAZENECA | BEST PHARMACEUTICAL PRODUCT | CARDIOLOGY | FRANCE |
| 1972 | Synthesis of daunorubicin hemi-synthetic derivatives | SANOFI | BEST PHARMACEUTICAL PRODUCT | BIOCHEMISTRY | FRANCE |
| 1973 | Profenid | SANOFI | BEST PHARMACEUTICAL PRODUCT | RHUMATOLOGY | FRANCE |
| 1974 | Modopar | MERCK & Cie | BEST PHARMACEUTICAL PRODUCT | NEUROLOGY | FRANCE |
| 1974 | Modopar | ROCHE | BEST PHARMACEUTICAL PRODUCT | NEUROLOGY | FRANCE |
| 1975 | Chenodex | SANOFI | BEST PHARMACEUTICAL PRODUCT | HEPATOLOGY GASTRO-ENTEROLOGY | FRANCE |
| 1978 | Parlodel | NOVARTIS | BEST PHARMACEUTICAL PRODUCT | ENDOCRINOLOGY | FRANCE |
| 1978 | Solaskil | SANOFI | BEST PHARMACEUTICAL PRODUCT | INFECTIOLOGY | FRANCE |
| 1979 | Tagamet | GSK | BEST PHARMACEUTICAL PRODUCT | HEPATOLOGY GASTRO-ENTEROLOGY | FRANCE |
| 1979 | Whole Research | MERCK & Cie | BEST PHARMACEUTICAL PRODUCT | OPHTHALMOLOGY | FRANCE |
| 1980 | Adalate | BAYER | BEST PHARMACEUTICAL PRODUCTGI | CARDIOLOGY | FRANCE |
| 1981 | Narcan | SANOFI | BEST PHARMACEUTICAL PRODUCT | ANESTHESIA-REANIMATION | FRANCE |
| 1982 | Inosine-Acedobene-Dimepramol | SANOFI | BEST PHARMACEUTICAL PRODUCT | NEUROLOGY | FRANCE |
| 1983 | Lopril | BRISTOL-MYERS SQUIBB | BEST PHARMACEUTICAL PRODUCT | CARDIOLOGY | FRANCE |
| 1983 | Zovirax | GSK | BEST PHARMACEUTICAL PRODUCT | DERMATOLOGY | BELGIUM / LUXEMBURG |
| 1983 | Whole Research | SANOFI | BEST PHARMACEUTICAL PRODUCT | NEUROLOGY | FRANCE |
| 1984 | Sandimmun | NOVARTIS | BEST PHARMACEUTICAL PRODUCT | IMMUNOLOGY | BELGIUM / LUXEMBURG |
| 1984 | Sandimmun | NOVARTIS | BEST PHARMACEUTICAL PRODUCT | IMMUNOLOGY | FRANCE |
| 1984 | Tigason | ROCHE | BEST PHARMACEUTICAL PRODUCT | DERMATOLOGY | FRANCE |
| 1985 | Praziquantel | BAYER | BEST PHARMACEUTICAL PRODUCT | INFECTIOLOGY | GERMANY |
| 1985 | Praziquantel | BAYER | BEST PHARMACEUTICAL PRODUCT | INFECTIOLOGY | GERMANY |
| 1985 | Zovirax | GSK | BEST PHARMACEUTICAL PRODUCT | DERMATOLOGY | FRANCE |
| 1985 | Hismanal | JOHNSON AND JOHNSON | BEST PHARMACEUTICAL PRODUCT | PNEUMOLOGY | BELGIUM / LUXEMBURG |
| 1985 | Praziquantel | MERCK KGaA | BEST PHARMACEUTICAL PRODUCT | INFECTIOLOGY | GERMANY |
| 1985 | Praziquantel | MERCK KGaA | BEST PHARMACEUTICAL PRODUCT | INFECTIOLOGY | GERMANY |
| 1985 | Vectarion | SERVIER | BEST PHARMACEUTICAL PRODUCT | PNEUMOLOGY | BELGIUM / LUXEMBURG |
| 1986 | Tracrium | GSK | BEST PHARMACEUTICAL PRODUCT | ANESTHESIA-REANIMATION | BELGIUM / LUXEMBURG |
| 1986 | Augmentin | GSK | BEST PHARMACEUTICAL PRODUCT | INFECTIOLOGY | FRANCE |
| 1986 | Sandimmun | NOVARTIS | BEST PHARMACEUTICAL PRODUCT | IMMUNOLOGY | GERMANY |
| 1986 | Whole Research | SERVIER | BEST PHARMACEUTICAL PRODUCT | ENDOCRINOLOGY | BELGIUM / LUXEMBURG |
| 1987 | Praziquantel | BAYER | BEST PHARMACEUTICAL PRODUCT | INFECTIOLOGY | FRANCE |
| 1987 | Engerix-B | GSK | BEST VACCINE | HEPATOLOGY GASTRO ENTEROLOGY | BELGIUM / LUXEMBURG |
| 1987 | Ticlide | SANOFI | BEST PHARMACEUTICAL PRODUCT | CARDIOLOGY | FRANCE |
| 1988 | Eprex | JOHNSON AND JOHNSON | BEST PHARMACEUTICAL PRODUCT | HEMATOLOGY/ONCOLOGY | BELGIUM / LUXEMBURG |
| 1988 | Genevax B | MERCK & Cie | BEST VACCINE | HEPATOLOGY GASTRO ENTEROLOGY | GERMANY |
| 1988 | Anexate | ROCHE | BEST PHARMACEUTICAL PRODUCT | NEUROLOGY | FRANCE |
| 1989 | Actilyse | BOEHRINGER-INGELHEIM | BEST PHARMACEUTICAL PRODUCT | HEMATOLOGY/ONCOLOGY | FRANCE |
| 1989 | Zocor | MERCK & Cie | BEST PHARMACEUTICAL PRODUCT | CARDIOLOGY | BELGIUM / LUXEMBURG |
| 1989 | Dantrin | ROHM-PHARMA | BEST PHARMACEUTICAL PRODUCT | ANESTHESIA-REANIMATION | GERMANY |
| 1990 | Whole Research | ALMIRALL-PRODESFARMA | BEST PHARMACEUTICAL PRODUCT | WHOLE RESEARCH | SPAIN |
| 1990 | Zofran | GSK | BEST PHARMACEUTICAL PRODUCT | HEMATOLOGY/ONCOLOGY | BELGIUM / LUXEMBURG |
| 1990 | Zofran | GSK | BEST PHARMACEUTICAL PRODUCT | HEMATOLOGY/ONCOLOGY | FRANCE |
| 1990 | Zovirax | GSK | BEST PHARMACEUTICAL PRODUCT | DERMATOLOGY | GERMANY |
| 1990 | Zofran | GSK | BEST PHARMACEUTICAL PRODUCT | HEMATOLOGY/ONCOLOGY | INTERNATIONAL |
| 1990 | Eminase | GSK | BEST PHARMACEUTICAL PRODUCT | HEMATOLOGY/ONCOLOGY | SPAIN |
| 1990 | Zofran | GSK | BEST PHARMACEUTICAL PRODUCT | HEMATOLOGY/ONCOLOGY | UNITED KINGDOM |
| 1990 | Whole Research | GUERBET | BEST PHARMACEUTICAL PRODUCT | RADIOLOGY | FRANCE |
| 1990 | Eprex | JOHNSON AND JOHNSON | BEST PHARMACEUTICAL PRODUCT | HEMATOLOGY/ONCOLOGY | UNITED KINGDOM |
| 1990 | Zocor | MERCK & Cie | BEST PHARMACEUTICAL PRODUCT | CARDIOLOGY | FRANCE |
| 1991 | Neupogen | AMGEN | BEST PHARMACEUTICAL PRODUCT | HEMATOLOGY/ONCOLOGY | BELGIUM / LUXEMBURG |
| 1991 | Neupogen | AMGEN | BEST PHARMACEUTICAL PRODUCT | HEMATOLOGY/ONCOLOGY | UNITED KINGDOM |
| 1991 | Whole Research | ESTEVE | BEST PHARMACEUTICAL PRODUCT | WHOLE RESEARCH | SPAIN |
| 1991 | Zocor | MERCK & Cie | BEST PHARMACEUTICAL PRODUCT | CARDIOLOGY | INTERNATIONAL |
| 1991 | Zocor | MERCK & Cie | BEST PHARMACEUTICAL PRODUCT | CARDIOLOGY | SPAIN |
| 1991 | Zocor | MERCK & Cie | BEST PHARMACEUTICAL PRODUCT | CARDIOLOGY | UNITED KINGDOM |
| 1991 | Sandostatin | NOVARTIS | BEST PHARMACEUTICAL PRODUCT | ENDOCRINOLOGY | FRANCE |
| 1991 | Sandostatin | NOVARTIS | BEST PHARMACEUTICAL PRODUCT | ENDOCRINOLOGY | UNITED KINGDOM |
| 1991 | Neupogen | ROCHE | BEST PHARMACEUTICAL PRODUCT | HEMATOLOGY/ONCOLOGY | BELGIUM / LUXEMBURG |
| 1991 | Neupogen | ROCHE | BEST PHARMACEUTICAL PRODUCT | HEMATOLOGY/ONCOLOGY | UNITED KINGDOM |
| 1991 | Whole Research | TEVA | BEST PHARMACEUTICAL PRODUCT | WHOLE RESEARCH | FRANCE |
| 1992 | Survanta | ABBOTT | BEST PHARMACEUTICAL PRODUCT | PNEUMOLOGY | GERMANY |
| 1992 | Neupogen | AMGEN | BEST PHARMACEUTICAL PRODUCT | HEMATOLOGY/ONCOLOGY | FRANCE |
| 1992 | Neupogen | AMGEN | BEST PHARMACEUTICAL PRODUCT | HEMATOLOGY/ONCOLOGY | INTERNATIONAL |
| 1992 | Zofran | GSK | BEST PHARMACEUTICAL PRODUCT | HEMATOLOGY/ONCOLOGY | SPAIN |
| 1992 | Exosurf | GSK | BEST PHARMACEUTICAL PRODUCT | PNEUMOLOGY | UNITED KINGDOM |
| 1992 | Havrix | GSK | BEST VACCINE | HEPATOLOGY GASTRO ENTEROLOGY | BELGIUM / LUXEMBURG |
| 1992 | Proscar | MERCK & Cie | BEST PHARMACEUTICAL PRODUCT | UROLOGY | UNITED KINGDOM |
| 1992 | Sandimmun | NOVARTIS | BEST PHARMACEUTICAL PRODUCT | IMMUNOLOGY | GERMANY |
| 1992 | Whole Research | PFIZER | BEST PHARMACEUTICAL PRODUCT | WHOLE RESEARCH | FRANCE |
| 1992 | Neupogen | ROCHE | BEST PHARMACEUTICAL PRODUCT | HEMATOLOGY/ONCOLOGY | FRANCE |
| 1992 | Neupogen | ROCHE | BEST PHARMACEUTICAL PRODUCT | HEMATOLOGY/ONCOLOGY | INTERNATIONAL |
| 1992 | Whole Research | URIACH | BEST PHARMACEUTICAL PRODUCT | WHOLE RESEARCH | SPAIN |
| 1993 | Iloprost | BAYER | BEST PHARMACEUTICAL PRODUCT | CARDIOLOGY | THE NETHERLANDS |
| 1993 | Sertol | FERRER | BEST PHARMACEUTICAL PRODUCT | DERMATOLOGY | SPAIN |
| 1993 | Lacipin | GSK | BEST BIOTECHNOLOGY PRODUCT | CARDIOLOGY | ITALY |
| 1993 | Surfexo | GSK | BEST PHARMACEUTICAL PRODUCT | PNEUMOLOGY | PORTUGAL |
| 1993 | Havrix | GSK | BEST VACCINE | HEPATOLOGY GASTRO ENTEROLOGY | FRANCE |
| 1993 | Havrix | GSK | BEST VACCINE | HEPATOLOGY GASTRO ENTEROLOGY | UNITED KINGDOM |
| 1993 | Daivonex | LEO | BEST PHARMACEUTICAL PRODUCT | DERMATOLOGY | BELGIUM / LUXEMBURG |
| 1993 | Daivonex | LUNDBECK | BEST PHARMACEUTICAL PRODUCT | DERMATOLOGY | BELGIUM / LUXEMBURG |
| 1993 | Vaccinol-HIB | ROHM-PHARMA | BEST VACCINE | IMMUNOLOGY | GERMANY |
| 1993 | Whole Research | SANOFI | BEST PHARMACEUTICAL PRODUCT | WHOLE RESEARCH | FRANCE |
| 1994 | Whole Research | ALMIRALL-PRODESFARMA | BEST PHARMACEUTICAL PRODUCT | WHOLE RESEARCH | SPAIN |
| 1994 | Recombinate | BAXTER | BEST PHARMACEUTICAL PRODUCT | HEMATOLOGY/ONCOLOGY | THE NETHERLANDS |
| 1994 | Taxol | BRISTOL-MYERS SQUIBB | BEST PHARMACEUTICAL PRODUCT | HEMATOLOGY/ONCOLOGY | BELGIUM / LUXEMBURG |
| 1994 | Imitrex | GSK | BEST PHARMACEUTICAL PRODUCT | NEUROLOGY | CANADA |
| 1994 | Tagamet | GSK | BEST PHARMACEUTICAL PRODUCT | HEPATOLOGY GASTRO-ENTEROLOGY | UNITED KINGDOM |
| 1994 | Havrix | GSK | BEST VACCINE | HEPATOLOGY GASTRO ENTEROLOGY | INTERNATIONAL |
| 1994 | Havrix | GSK | BEST VACCINE | HEPATOLOGY GASTRO ENTEROLOGY | SPAIN |
| 1994 | Rifabutine | PFIZER | BEST PHARMACEUTICAL PRODUCT | INFECTIOLOGY | ITALY |
| 1994 | Fraxiparin | SANOFI | BEST PHARMACEUTICAL PRODUCT | CARDIOLOGY | PORTUGAL |
| 1995 | Emla | ASTRAZENECA | BEST PHARMACEUTICAL PRODUCT | ANESTHESIA-REANIMATION | FRANCE |
| 1995 | Betaferon | BAYER | BEST PHARMACEUTICAL PRODUCT | NEUROLOGY | BELGIUM / LUXEMBURG |
| 1995 | Ecohovist | BAYER | BEST PHARMACEUTICAL PRODUCT | RADIOLOGY | GERMANY |
| 1995 | Taxol | BRISTOL-MYERS SQUIBB | BEST PHARMACEUTICAL PRODUCT | HEMATOLOGY/ONCOLOGY | SPAIN |
| 1995 | Lamictal | GSK | BEST PHARMACEUTICAL PRODUCT | NEUROLOGY | UNITED KINGDOM |
| 1995 | Enablex | PFIZER | BEST PHARMACEUTICAL PRODUCT | RHUMATOLOGY | THE NETHERLANDS |
| 1995 | Pulmozyme | ROCHE | BEST PHARMACEUTICAL PRODUCT | PNEUMOLOGY | PORTUGAL |
| 1995 | Invirase | ROCHE | BEST PHARMACEUTICAL PRODUCT | INFECTIOLOGY | UNITED KINGDOM |
| 1996 | Kaletra | ABBOTT | BEST PHARMACEUTICAL PRODUCT | INFECTIOLOGY | BELGIUM / LUXEMBURG |
| 1996 | Discovery of 3 TC Lamivudine | BIOCHEM-PHARMA | BEST PHARMACEUTICAL PRODUCT | INFECTIOLOGY | CANADA |
| 1996 | Zovirax | GSK | BEST PHARMACEUTICAL PRODUCT | DERMATOLOGY | UNITED KINGDOM |
| 1996 | Risperdal | JOHNSON AND JOHNSON | BEST PHARMACEUTICAL PRODUCT | NEUROLOGY | CANADA |
| 1996 | Risperdal | JOHNSON AND JOHNSON | BEST PHARMACEUTICAL PRODUCT | NEUROLOGY | FRANCE |
| 1996 | Risperdal | JOHNSON AND JOHNSON | BEST PHARMACEUTICAL PRODUCT | NEUROLOGY | INTERNATIONAL |
| 1996 | Crixivan | MERCK & Cie | BEST PHARMACEUTICAL PRODUCT | INFECTIOLOGY | BELGIUM / LUXEMBURG |
| 1996 | Cozaar | MERCK & Cie | BEST PHARMACEUTICAL PRODUCT | CARDIOLOGY | SPAIN |
| 1996 | Campral | MERCK & Cie | BEST PHARMACEUTICAL PRODUCT | NEUROLOGY | THE NETHERLANDS |
| 1996 | Sabril | SANOFI | BEST PHARMACEUTICAL PRODUCT | NEUROLOGY | CANADA |
| 1996 | Taxotere | SANOFI | BEST PHARMACEUTICAL PRODUCT | HEMATOLOGY/ONCOLOGY | PORTUGAL |
| 1996 | Discovery of neuropeptide receptors | SANOFI | BEST PHARMACEUTICAL PRODUCT | NEUROLOGY | FRANCE |
| 1997 | Zyprexa | ELI-LILLY | BEST PHARMACEUTICAL PRODUCT | NEUROLOGY | UNITED KINGDOM |
| 1997 | Epivir | GSK | BEST PHARMACEUTICAL PRODUCT | INFECTIOLOGY | CANADA |
| 1997 | Cozaar | MERCK & Cie | BEST PHARMACEUTICAL PRODUCT | CARDIOLOGY | GERMANY |
| 1997 | Provegon | MERCK & Cie / ORGANON | BEST PHARMACEUTICAL PRODUCT | ENDOCRINOLOGY | ITALY |
| 1997 | Invirase | ROCHE | BEST PHARMACEUTICAL PRODUCT | INFECTIOLOGY | PORTUGAL |
| 1997 | Invirase | ROCHE | BEST PHARMACEUTICAL PRODUCT | INFECTIOLOGY | SPAIN |
| 1997 | Cellcept | ROCHE | BEST PHARMACEUTICAL PRODUCT | IMMUNOLOGY | THE NETHERLANDS |
| 1997 | Modiodal | TEVA | BEST PHARMACEUTICAL PRODUCT | NEUROLOGY | FRANCE |
| 1998 | Kaletra | ABBOTT | BEST PHARMACEUTICAL PRODUCT | INFECTIOLOGY | INTERNATIONAL |
| 1998 | Avonex | BIOGEN | BEST BIOTECHNOLOGY PRODUCT | NEUROLOGY | FRANCE |
| 1998 | Hycantin | GSK | BEST PHARMACEUTICAL PRODUCT | HEMATOLOGY/ONCOLOGY | SPAIN |
| 1998 | Fosamax | MERCK & Cie | BEST PHARMACEUTICAL PRODUCT | RHUMATOLOGY | CANADA |
| 1998 | Crixivan | MERCK & Cie | BEST PHARMACEUTICAL PRODUCT | INFECTIOLOGY | INTERNATIONAL |
| 1998 | Cozaar | MERCK & Cie | BEST PHARMACEUTICAL PRODUCT | CARDIOLOGY | ITALY |
| 1998 | Singulair | MERCK & Cie | BEST PHARMACEUTICAL PRODUCT | PNEUMOLOGY | UNITED KINGDOM |
| 1998 | Purgon | MERCK & Cie / ORGANON | BEST PHARMACEUTICAL PRODUCT | ENDOCRINOLOGY | FRANCE |
| 1998 | Whole Research | PIERRE FABRE | BEST PHARMACEUTICAL PRODUCT | WHOLE RESEARCH | FRANCE |
| 1998 | Invirase | ROCHE | BEST PHARMACEUTICAL PRODUCT | INFECTIOLOGY | INTERNATIONAL |
| 1998 | Vesanoid | ROCHE | BEST PHARMACEUTICAL PRODUCT | HEMATOLOGY/ONCOLOGY | PORTUGAL |
| 1998 | Tasmar | ROCHE | BEST PHARMACEUTICAL PRODUCT | NEUROLOGY | THE NETHERLANDS |
| 1998 | Campto | SANOFI | BEST PHARMACEUTICAL PRODUCT | HEMATOLOGY/ONCOLOGY | BELGIUM / LUXEMBURG |
| 1998 | Gonal F | SERONO | BEST PHARMACEUTICAL PRODUCT | ENDOCRINOLOGY | FRANCE |
| 1999 | Campral | MERCK & Cie | BEST PHARMACEUTICAL PRODUCT | NEUROLOGY | GERMANY |
| 1999 | Singulair | MERCK & Cie | BEST PHARMACEUTICAL PRODUCT | PNEUMOLOGY | PORTUGAL |
| 1999 | Singulair | MERCK & Cie | BEST PHARMACEUTICAL PRODUCT | PNEUMOLOGY | SPAIN |
| 1999 | Simulect | NOVARTIS | BEST PHARMACEUTICAL PRODUCT | IMMUNOLOGY | ITALY |
| 1999 | Lipitor | PFIZER | BEST PHARMACEUTICAL PRODUCT | CARDIOLOGY | CANADA |
| 1999 | Viagra | PFIZER | BEST PHARMACEUTICAL PRODUCT | UROLOGY | THE NETHERLANDS |
| 1999 | Mabthera | ROCHE | BEST PHARMACEUTICAL PRODUCT | HEMATOLOGY/ONCOLOGY | BELGIUM / LUXEMBURG |
| 1999 | Mabthera | ROCHE | BEST PHARMACEUTICAL PRODUCT | HEMATOLOGY/ONCOLOGY | FRANCE |
| 2000 | Plavix | BRISTOL-MYERS SQUIBB | BEST PHARMACEUTICAL PRODUCT | CARDIOLOGY | FRANCE |
| 2000 | Evista | ELI LILLY | BEST PHARMACEUTICAL PRODUCT | ENDOCRINOLOGY | SPAIN |
| 2000 | Remicade | JOHNSON AND JOHNSON | BEST BIOTECHNOLOGY PRODUCT | HEPATOLOGY GASTRO-ENTEROLOGY | INTERNATIONAL |
| 2000 | Remicade | JOHNSON AND JOHNSON | BEST BIOTECHNOLOGY PRODUCT | HEPATOLOGY GASTRO-ENTEROLOGY | PORTUGAL |
| 2000 | Remicade | JOHNSON AND JOHNSON | BEST BIOTECHNOLOGY PRODUCT | HEPATOLOGY GASTRO-ENTEROLOGY | THE NETHERLANDS |
| 2000 | Farnesyl | JOHNSON AND JOHNSON | BEST PHARMACEUTICAL PRODUCT | HEMATOLOGY/ONCOLOGY | FRANCE |
| 2000 | Remicade | MERCK & Cie | BEST BIOTECHNOLOGY PRODUCT | HEPATOLOGY GASTRO-ENTEROLOGY | INTERNATIONAL |
| 2000 | Remicade | MERCK & Cie | BEST BIOTECHNOLOGY PRODUCT | HEPATOLOGY GASTRO-ENTEROLOGY | PORTUGAL |
| 2000 | Remicade | MERCK & Cie | BEST BIOTECHNOLOGY PRODUCT | HEPATOLOGY GASTRO-ENTEROLOGY | THE NETHERLANDS |
| 2000 | Vioxx | MERCK & Cie | BEST PHARMACEUTICAL PRODUCT | RHUMATOLOGY | BELGIUM / LUXEMBURG |
| 2000 | Singulair | MERCK & Cie | BEST PHARMACEUTICAL PRODUCT | PNEUMOLOGY | CANADA |
| 2000 | Vioxx | MERCK & Cie | BEST PHARMACEUTICAL PRODUCT | RHUMATOLOGY | ITALY |
| 2000 | Viagra | PFIZER | BEST PHARMACEUTICAL PRODUCT | UROLOGY | FRANCE |
| 2000 | Viagra | PFIZER | BEST PHARMACEUTICAL PRODUCT | UROLOGY | UNITED KINGDOM |
| 2000 | Meningitec | PFIZER | BEST VACCINE | NEUROLOGY | SPAIN |
| 2000 | Meningitec | PFIZER | BEST VACCINE | NEUROLOGY | UNITED KINGDOM |
| 2000 | Plavix | SANOFI | BEST PHARMACEUTICAL PRODUCT | CARDIOLOGY | FRANCE |
| 2001 | Synagis | ABBOTT | BEST PHARMACEUTICAL PRODUCT | PNEUMOLOGY | GERMANY |
| 2001 | Almogran | ALMIRALL-PRODESFARMA | BEST PHARMACEUTICAL PRODUCT | NEUROLOGY | SPAIN |
| 2001 | Avalox | BAYER | BEST PHARMACEUTICAL PRODUCT | PNEUMOLOGY | ITALY |
| 2001 | Avalox | BAYER | BEST PHARMACEUTICAL PRODUCT | INFECTIOLOGY | ITALY |
| 2001 | Visudyne | NOVARTIS | BEST PHARMACEUTICAL PRODUCT | OPHTHALMOLOGY | FRANCE |
| 2001 | Visudyne | NOVARTIS | BEST PHARMACEUTICAL PRODUCT | OPHTHALMOLOGY | PORTUGAL |
| 2001 | Viagra | PFIZER | BEST PHARMACEUTICAL PRODUCT | UROLOGY | CANADA |
| 2001 | Herceptin | ROCHE / Genentech | BEST BIOTECHNOLOGY PRODUCT | HEMATOLOGY/ONCOLOGY | BELGIUM / LUXEMBURG |
| 2001 | Herceptin | ROCHE / Genentech | BEST BIOTECHNOLOGY PRODUCT | HEMATOLOGY/ONCOLOGY | THE NETHERLANDS |
| 2002 | Multihance | ALBANA PHARMA | BEST PHARMACEUTICAL PRODUCT | RADIOLOGY | ITALY |
| 2002 | Avandia | GSK | BEST PHARMACEUTICAL PRODUCT | ENDOCRINOLOGY | SPAIN |
| 2002 | Pharmacology of neuropeptides | MENARINI | BEST PHARMACEUTICAL PRODUCT | NEUROLOGY | ITALY |
| 2002 | Gleevec | NOVARTIS | BEST PHARMACEUTICAL PRODUCT | HEMATOLOGY/ONCOLOGY | BELGIUM / LUXEMBURG |
| 2002 | Gleevec | NOVARTIS | BEST PHARMACEUTICAL PRODUCT | HEMATOLOGY/ONCOLOGY | CANADA |
| 2002 | Gleevec | NOVARTIS | BEST PHARMACEUTICAL PRODUCT | HEMATOLOGY/ONCOLOGY | FRANCE |
| 2002 | Gleevec | NOVARTIS | BEST PHARMACEUTICAL PRODUCT | HEMATOLOGY/ONCOLOGY | INTERNATIONAL |
| 2002 | Gleevec | NOVARTIS | BEST PHARMACEUTICAL PRODUCT | HEMATOLOGY/ONCOLOGY | ITALY |
| 2002 | Gleevec | NOVARTIS | BEST PHARMACEUTICAL PRODUCT | HEMATOLOGY/ONCOLOGY | PORTUGAL |
| 2002 | Zometa | NOVARTIS | BEST PHARMACEUTICAL PRODUCT | HEMATOLOGY/ONCOLOGY | SPAIN |
| 2002 | Gleevec | NOVARTIS | BEST PHARMACEUTICAL PRODUCT | HEMATOLOGY/ONCOLOGY | SWITZERLAND |
| 2002 | Gleevec | NOVARTIS | BEST PHARMACEUTICAL PRODUCT | HEMATOLOGY/ONCOLOGY | THE NETHERLANDS |
| 2002 | Gleevec | NOVARTIS | BEST PHARMACEUTICAL PRODUCT | HEMATOLOGY/ONCOLOGY | UNITED KINGDOM |
| 2002 | Enbrel | PFIZER | BEST PHARMACEUTICAL PRODUCT | RHUMATOLOGY | CANADA |
| 2002 | Herceptin | ROCHE / Genentech | BEST BIOTECHNOLOGY PRODUCT | HEMATOLOGY/ONCOLOGY | UNITED KINGDOM |
| 2002 | Whole Research | SERVIER | BEST PHARMACEUTICAL PRODUCT | WHOLE RESEARCH | FRANCE |
| 2003 | Tracleer | ACTELION | BEST PHARMACEUTICAL PRODUCT | PNEUMOLOGY | PORTUGAL |
| 2003 | Xigris | ELI LILLY | BEST PHARMACEUTICAL PRODUCT | INFECTIOLOGY | BELGIUM / LUXEMBURG |
| 2003 | Xigris | ELI LILLY | BEST PHARMACEUTICAL PRODUCT | INFECTIOLOGY | THE NETHERLANDS |
| 2003 | Gleevec | NOVARTIS | BEST PHARMACEUTICAL PRODUCT | HEMATOLOGY/ONCOLOGY | CANADA |
| 2003 | Vfend | PFIZER | BEST PHARMACEUTICAL PRODUCT | INFECTIOLOGY | FRANCE |
| 2003 | Zyvoxid | PFIZER | BEST PHARMACEUTICAL PRODUCT | INFECTIOLOGY | GERMANY |
| 2003 | Zyvoxid | PFIZER | BEST PHARMACEUTICAL PRODUCT | INFECTIOLOGY | SWITZERLAND |
| 2003 | Prevenar | PFIZER | BEST VACCINE | PNEUMOLOGY | FRANCE |
| 2003 | Prevenar | PFIZER | BEST VACCINE | PNEUMOLOGY | SPAIN |
| 2003 | Prevenar | PFIZER | BEST VACCINE | PNEUMOLOGY | SWITZERLAND |
| 2003 | Arixtra | SANOFI | BEST PHARMACEUTICAL PRODUCT | CARDIOLOGY | ITALY |
| 2004 | Tracleer | ACTELION | BEST PHARMACEUTICAL PRODUCT | PNEUMOLOGY | FRANCE |
| 2004 | Iressa | ASTRAZENECA | BEST PHARMACEUTICAL PRODUCT | HEMATOLOGY/ONCOLOGY | SWITZERLAND |
| 2004 | Spiriva | BOEHRINGER INGELHEIM | BEST PHARMACEUTICAL PRODUCT | PNEUMOLOGY | CANADA |
| 2004 | Meningococcal | CHIRON | BEST VACCINE | INFECTIOLOGY | ITALY |
| 2004 | Whole Research | IPSEN | BEST PHARMACEUTICAL PRODUCT | WHOLE RESEARCH | FRANCE |
| 2004 | Ebixa | LUNDBECK | BEST PHARMACEUTICAL PRODUCT | NEUROLOGY | SPAIN |
| 2004 | Prevenar | PFIZER | BEST VACCINE | PNEUMOLOGY | UNITED KINGDOM |
| 2004 | Fuzon | ROCHE | BEST PHARMACEUTICAL PRODUCT | INFECTIOLOGY | BELGIUM / LUXEMBURG |
| 2004 | Fuzon | ROCHE | BEST PHARMACEUTICAL PRODUCT | INFECTIOLOGY | INTERNATIONAL |
| 2004 | Fuzon | ROCHE | BEST PHARMACEUTICAL PRODUCT | INFECTIOLOGY | PORTUGAL |
| 2004 | Fuzon | ROCHE | BEST PHARMACEUTICAL PRODUCT | INFECTIOLOGY | THE NETHERLANDS |
| 2004 | Fuzon | ROCHE | BEST PHARMACEUTICAL PRODUCT | INFECTIOLOGY | UNITED KINGDOM |
| 2004 | Eloxatin | SANOFI | BEST PHARMACEUTICAL PRODUCT | HEMATOLOGY/ONCOLOGY | FRANCE |
| 2005 | Reyataz | BRISTOL-MYERS SQUIBB | BEST PHARMACEUTICAL PRODUCT | INFECTIOLOGY | SPAIN |
| 2005 | Velcade | JOHNSON AND JOHNSON | BEST PHARMACEUTICAL PRODUCT | HEMATOLOGY/ONCOLOGY | BELGIUM / LUXEMBURG |
| 2005 | Velcade | JOHNSON AND JOHNSON | BEST PHARMACEUTICAL PRODUCT | HEMATOLOGY/ONCOLOGY | FRANCE |
| 2005 | Velcade | JOHNSON AND JOHNSON | BEST PHARMACEUTICAL PRODUCT | HEMATOLOGY/ONCOLOGY | GERMANY |
| 2005 | Velcade | JOHNSON AND JOHNSON | BEST PHARMACEUTICAL PRODUCT | HEMATOLOGY/ONCOLOGY | THE NETHERLANDS |
| 2005 | Erbitux | MERCK KGaA | BEST PHARMACEUTICAL PRODUCT | HEMATOLOGY/ONCOLOGY | ITALY |
| 2005 | Erbitux | MERCK KGaA | BEST PHARMACEUTICAL PRODUCT | HEMATOLOGY/ONCOLOGY | SPAIN |
| 2005 | Ezetrol | MERCK & Cie | BEST PHARMACEUTICAL PRODUCT | CARDIOLOGY | SWITZERLAND |
| 2005 | Enbrel | PFIZER | BEST PHARMACEUTICAL PRODUCT | RHUMATOLOGY | ITALY |
| 2005 | Protelos | SERVIER | BEST PHARMACEUTICAL PRODUCT | RHUMATOLOGY | FRANCE |
| 2005 | Whole Research | VIRON THERAPEUTICS | BEST PHARMACEUTICAL PRODUCT | RHUMATOLOGY | CANADA |
| 2006 | Kepivance | AMGEN | BEST PHARMACEUTICAL PRODUCT | INFECTIOLOGY | BELGIUM / LUXEMBURG |
| 2006 | Kepivance | AMGEN | BEST PHARMACEUTICAL PRODUCT | DERMATOLOGY | BELGIUM / LUXEMBURG |
| 2006 | Abilify | BRISTOL-MYERS SQUIBB | BEST PHARMACEUTICAL PRODUCT | NEUROLOGY | FRANCE |
| 2006 | Rotarix | GSK | BEST VACCINE | IMMUNOLOGY | UNITED KINGDOM |
| 2006 | Velcade | JOHNSON AND JOHNSON | BEST PHARMACEUTICAL PRODUCT | HEMATOLOGY/ONCOLOGY | INTERNATIONAL |
| 2006 | Ezetrol | MERCK & Cie | BEST PHARMACEUTICAL PRODUCT | CARDIOLOGY | ITALY |
| 2006 | Xolair | NOVARTIS | BEST PHARMACEUTICAL PRODUCT | PNEUMOLOGY | UNITED KINGDOM |
| 2006 | Avastin | ROCHE | BEST BIOTECHNOLOGY PRODUCT | HEMATOLOGY/ONCOLOGY | FRANCE |
| 2006 | Avastin | ROCHE | BEST BIOTECHNOLOGY PRODUCT | HEMATOLOGY/ONCOLOGY | THE NETHERLANDS |
| 2006 | Herceptin | ROCHE / Genentech | BEST BIOTECHNOLOGY PRODUCT | HEMATOLOGY/ONCOLOGY | CANADA |
| 2006 | Myozyne | SANOFI | BEST PHARMACEUTICAL PRODUCT | NEUROLOGY | UNITED KINGDOM |
| 2007 | Humira | ABBVIE | BEST BIOTECHNOLOGY PRODUCT | HEMATOLOGY/ONCOLOGY | USA |
| 2007 | Erbitux | MERCK KGaA | BEST PHARMACEUTICAL PRODUCT | HEMATOLOGY/ONCOLOGY | FRANCE |
| 2007 | Januvia | MERCK & Cie | BEST PHARMACEUTICAL PRODUCT | ENDOCRINOLOGY | USA |
| 2007 | Gardasil | MERCK & Cie | BEST VACCINE | GYNECOGOLY | BELGIUM / LUXEMBURG |
| 2007 | Gardasil | MERCK & Cie | BEST VACCINE | GYNECOGOLY | FRANCE |
| 2007 | Rotateq | MERCK & Cie | BEST VACCINE | HEPATOLOGY GASTRO-ENTEROLOGY | THE NETHERLANDS |
| 2007 | Rotateq | MERCK & Cie | BEST VACCINE | HEPATOLOGY GASTRO-ENTEROLOGY | USA |
| 2007 | Tigacyl | PFIZER | BEST PHARMACEUTICAL PRODUCT | INFECTIOLOGY | ITALY |
| 2007 | Sutent | PFIZER | BEST PHARMACEUTICAL PRODUCT | HEMATOLOGY/ONCOLOGY | SWITZERLAND |
| 2007 | Champix | PFIZER | BEST PHARMACEUTICAL PRODUCT | ADDICTOLOGY | USA |
| 2007 | Gardasil | SANOFI | BEST VACCINE | GYNECOGOLY | BELGIUM / LUXEMBURG |
| 2007 | Gardasil | SANOFI | BEST VACCINE | GYNECOGOLY | FRANCE |
| 2007 | Rotateq | SANOFI | BEST VACCINE | HEPATOLOGY GASTRO-ENTEROLOGY | THE NETHERLANDS |
| 2007 | Rotateq | SANOFI | BEST VACCINE | HEPATOLOGY GASTRO-ENTEROLOGY | USA |
| 2008 | Soliris | ALEXION | BEST BIOTECHNOLOGY PRODUCT | HEMATOLOGY/ONCOLOGY | USA |
| 2008 | Nexavar | BAYER | BEST BIOTECHNOLOGY PRODUCT | HEMATOLOGY/ONCOLOGY | FRANCE |
| 2008 | Diacomit | BIOCODEX | BEST PHARMACEUTICAL PRODUCT | NEUROLOGY | FRANCE |
| 2008 | Revlimid | CELGENE | BEST PHARMACEUTICAL PRODUCT | HEMATOLOGY/ONCOLOGY | USA |
| 2008 | Insentress | MERCK & Cie | BEST PHARMACEUTICAL PRODUCT | INFECTIOLOGY | FRANCE |
| 2008 | Januvia | MERCK & Cie | BEST PHARMACEUTICAL PRODUCT | ENDOCRINOLOGY | THE NETHERLANDS |
| 2008 | Insentress | MERCK & Cie | BEST PHARMACEUTICAL PRODUCT | INFECTIOLOGY | USA |
| 2008 | Gardasil | MERCK & Cie | BEST VACCINE | GYNECOGOLY | CANADA |
| 2008 | Gardasil | MERCK & Cie | BEST VACCINE | GYNECOGOLY | INTERNATIONAL |
| 2008 | Gardasil | MERCK & Cie | BEST VACCINE | GYNECOGOLY | SPAIN |
| 2008 | Gardasil | MERCK & Cie | BEST VACCINE | GYNECOGOLY | SWITZERLAND |
| 2008 | Gardasil | MERCK & Cie | BEST VACCINE | GYNECOGOLY | UNITED KINGDOM |
| 2008 | Lucentis | NOVARTIS | BEST BIOTECHNOLOGY PRODUCT | OPHTHALMOLOGY | BELGIUM / LUXEMBURG |
| 2008 | Exjade | NOVARTIS | BEST BIOTECHNOLOGY PRODUCT | HEMATOLOGY/ONCOLOGY | UNITED KINGDOM |
| 2008 | Infuse | PFIZER | BEST BIOTECHNOLOGY PRODUCT | RHUMATOLOGY | USA |
| 2008 | Selzentry | PFIZER | BEST PHARMACEUTICAL PRODUCT | INFECTIOLOGY | USA |
| 2008 | Gardasil | SANOFI | BEST VACCINE | GYNECOGOLY | CANADA |
| 2008 | Gardasil | SANOFI | BEST VACCINE | GYNECOGOLY | INTERNATIONAL |
| 2008 | Gardasil | SANOFI | BEST VACCINE | GYNECOGOLY | SPAIN |
| 2008 | Gardasil | SANOFI | BEST VACCINE | GYNECOGOLY | SWITZERLAND |
| 2008 | Gardasil | SANOFI | BEST VACCINE | GYNECOGOLY | UNITED KINGDOM |
| 2008 | Procoralan | SERVIER | BEST PHARMACEUTICAL PRODUCT | CARDIOLOGY | FRANCE |
| 2008 | Procoralan | SERVIER | BEST PHARMACEUTICAL PRODUCT | CARDIOLOGY | ITALY |
| 2008 | Procoralan | SERVIER | BEST PHARMACEUTICAL PRODUCT | CARDIOLOGY | SPAIN |
| 2009 | Soliris | ALEXION | BEST BIOTECHNOLOGY PRODUCT | HEMATOLOGY/ONCOLOGY | FRANCE |
| 2009 | nPlate | AMGEN | BEST BIOTECHNOLOGY PRODUCT | ORPHAN RARE | USA |
| 2009 | Xarelto | BAYER | BEST PHARMACEUTICAL PRODUCT | HEMATOLOGY/ONCOLOGY | BELGIUM / LUXEMBURG |
| 2009 | Xarelto | BAYER | BEST PHARMACEUTICAL PRODUCT | CARDIOLOGY | BELGIUM / LUXEMBURG |
| 2009 | Tygasi | BIOGEN | BEST BIOTECHNOLOGY PRODUCT | INFECTIOLOGY | FRANCE |
| 2009 | Orencia | BRISTOL-MYERS SQUIBB | BEST PHARMACEUTICAL PRODUCT | RHUMATOLOGY | SWITZERLAND |
| 2009 | Promacta | GSK | BEST BIOTECHNOLOGY PRODUCT | HEMATOLOGY/ONCOLOGY | USA |
| 2009 | Cervarix | GSK | BEST VACCINE | GYNECOGOLY | UNITED KINGDOM |
| 2009 | Insentress | MERCK & Cie | BEST PHARMACEUTICAL PRODUCT | INFECTIOLOGY | ITALY |
| 2009 | Gleevec | NOVARTIS | BEST PHARMACEUTICAL PRODUCT | HEMATOLOGY/ONCOLOGY | USA |
| 2009 | Champix | PFIZER | BEST PHARMACEUTICAL PRODUCT | ADDICTOLOGY | CANADA |
| 2009 | Yondelis | PHARMAPHARM | BEST PHARMACEUTICAL PRODUCT | HEMATOLOGY/ONCOLOGY | SPAIN |
| 2009 | Procoralan | SERVIER | BEST PHARMACEUTICAL PRODUCT | CARDIOLOGY | GERMANY |
| 2009 | Orfadin | SWEDISH ORPHAN INTERNATIONAL | BEST PHARMACEUTICAL PRODUCT | NEUROLOGY | GERMANY |
| 2010 | nPlate | AMGEN | BEST BIOTECHNOLOGY PRODUCT | ORPHAN RARE | FRANCE |
| 2010 | nPlate | AMGEN | BEST BIOTECHNOLOGY PRODUCT | ORPHAN RARE | INTERNATIONAL |
| 2010 | nPlate | AMGEN | BEST BIOTECHNOLOGY PRODUCT | ORPHAN RARE | SPAIN |
| 2010 | nPlate | AMGEN | BEST BIOTECHNOLOGY PRODUCT | ORPHAN RARE | THE NETHERLANDS |
| 2010 | Xarelto | BAYER | BEST PHARMACEUTICAL PRODUCT | CARDIOLOGY | FRANCE |
| 2010 | Xarelto | BAYER | BEST PHARMACEUTICAL PRODUCT | CARDIOLOGY | FRANCE |
| 2010 | Xarelto | BAYER | BEST PHARMACEUTICAL PRODUCT | CARDIOLOGY | INTERNATIONAL |
| 2010 | Xarelto | BAYER | BEST PHARMACEUTICAL PRODUCT | CARDIOLOGY | SWITZERLAND |
| 2010 | Xarelto | BAYER | BEST PHARMACEUTICAL PRODUCT | CARDIOLOGY | UNITED KINGDOM |
| 2010 | Pradaxa | BOEHRINGER INGELHEIM | BEST PHARMACEUTICAL PRODUCT | CARDIOLOGY | GERMANY |
| 2010 | Vidaza | CELGENE | BEST BIOTECHNOLOGY PRODUCT | HEMATOLOGY/ONCOLOGY | FRANCE |
| 2010 | Removab | FRESENIUS BIOTECH | BEST PHARMACEUTICAL PRODUCT | HEMATOLOGY/ONCOLOGY | GERMANY |
| 2010 | Stelara | JOHNSON AND JOHNSON | BEST BIOTECHNOLOGY PRODUCT | NEUROLOGY | CANADA |
| 2010 | Gardasil | MERCK & Cie | BEST VACCINE | GYNECOGOLY | ITALY |
| 2010 | Coartem | NOVARTIS | BEST PHARMACEUTICAL PRODUCT | INFECTIOLOGY | USA |
| 2010 | Roactemra | ROCHE | BEST PHARMACEUTICAL PRODUCT | RHUMATOLOGY | BELGIUM / LUXEMBURG |
| 2010 | Gardasil | SANOFI | BEST VACCINE | GYNECOGOLY | ITALY |
| 2010 | Firazyr | SHIRE PHARMACEUTICALS | BEST PHARMACEUTICAL PRODUCT | ALLERGOLOGY | UNITED KINGDOM |
| 2011 | nPlate | AMGEN | BEST BIOTECHNOLOGY PRODUCT | ORPHAN RARE | GERMANY |
| 2011 | Prolia | AMGEN | BEST PHARMACEUTICAL PRODUCT | RHUMATOLOGY | BELGIUM / LUXEMBURG |
| 2011 | Prolia | AMGEN | BEST PHARMACEUTICAL PRODUCT | RHUMATOLOGY | GERMANY |
| 2011 | Prolia | AMGEN | BEST PHARMACEUTICAL PRODUCT | RHUMATOLOGY | USA |
| 2011 | Pradaxa | BOEHRINGER INGELHEIM | BEST PHARMACEUTICAL PRODUCT | CARDIOLOGY | CANADA |
| 2011 | Arzerra | GSK | BEST BIOTECHNOLOGY PRODUCT | HEMATOLOGY/ONCOLOGY | THE NETHERLANDS |
| 2011 | Prolia | GSK | BEST PHARMACEUTICAL PRODUCT | RHUMATOLOGY | GERMANY |
| 2011 | Stelara | JOHNSON AND JOHNSON | BEST BIOTECHNOLOGY PRODUCT | NEUROLOGY | USA |
| 2011 | Human Fibrinogen Clottafact | LFB | BEST BIOTECHNOLOGY PRODUCT | HEMATOLOGY/ONCOLOGY | FRANCE |
| 2011 | Rotateq | MERCK & Cie | BEST VACCINE | HEPATOLOGY GASTRO-ENTEROLOGY | USA |
| 2011 | Ixario | NOVARTIS | BEST VACCINE | NEUROLOGY | FRANCE |
| 2011 | Prevenar 13 | PFIZER | BEST VACCINE | PNEUMOLOGY | USA |
| 2011 | Roactemra | ROCHE | BEST PHARMACEUTICAL PRODUCT | RHUMATOLOGY | FRANCE |
| 2011 | Rotateq | SANOFI | BEST VACCINE | HEPATOLOGY GASTRO-ENTEROLOGY | USA |
| 2011 | Mozobil | SANOFI | BEST PHARMACEUTICAL PRODUCT | HEMATOLOGY/ONCOLOGY | SPAIN |
| 2011 | Procoralan | SERVIER | BEST PHARMACEUTICAL PRODUCT | CARDIOLOGY | SWITZERLAND |
| 2012 | Prolia | AMGEN | BEST PHARMACEUTICAL PRODUCT | RHUMATOLOGY | SWITZERLAND |
| 2012 | Pradaxa | BOEHRINGER INGELHEIM | BEST PHARMACEUTICAL PRODUCT | CARDIOLOGY | POLAND |
| 2012 | Yervoy | BRISTOL-MYERS SQUIBB | BEST BIOTECHNOLOGY PRODUCT | HEMATOLOGY/ONCOLOGY | USA |
| 2012 | Sapien3 | EDWARDS LIFESCIENCES | BEST MEDICAL TECHNOLOGY | CARDIOLOGY | USA |
| 2012 | Removab | FRESENIUS BIOTECH | BEST PHARMACEUTICAL PRODUCT | HEMATOLOGY/ONCOLOGY | THE NETHERLANDS |
| 2012 | Prolia | GSK | BEST PHARMACEUTICAL PRODUCT | RHUMATOLOGY | SWITZERLAND |
| 2012 | Stelara | JOHNSON AND JOHNSON | BEST BIOTECHNOLOGY PRODUCT | NEUROLOGY | INTERNATIONAL |
| 2012 | Incivo | JOHNSON AND JOHNSON | BEST PHARMACEUTICAL PRODUCT | INFECTIOLOGY | BELGIUM / LUXEMBURG |
| 2012 | Incivo | JOHNSON AND JOHNSON | BEST PHARMACEUTICAL PRODUCT | INFECTIOLOGY | CANADA |
| 2012 | Incivo | JOHNSON AND JOHNSON | BEST PHARMACEUTICAL PRODUCT | INFECTIOLOGY | CANADA |
| 2012 | Incivo | JOHNSON AND JOHNSON | BEST PHARMACEUTICAL PRODUCT | INFECTIOLOGY | FRANCE |
| 2012 | Incivo | JOHNSON AND JOHNSON | BEST PHARMACEUTICAL PRODUCT | INFECTIOLOGY | POLAND |
| 2012 | Incivo | JOHNSON AND JOHNSON | BEST PHARMACEUTICAL PRODUCT | INFECTIOLOGY | UNITED KINGDOM |
| 2012 | Incivo | JOHNSON AND JOHNSON | BEST PHARMACEUTICAL PRODUCT | INFECTIOLOGY | USA |
| 2012 | Melody | MEDTRONIC | BEST MEDICAL TECHNOLOGY | PNEUMOLOGY | USA |
| 2012 | Victrelis | MERCK & Cie | BEST PHARMACEUTICAL PRODUCT | INFECTIOLOGY | BELGIUM / LUXEMBURG |
| 2012 | Victrelis | MERCK & Cie | BEST PHARMACEUTICAL PRODUCT | INFECTIOLOGY | FRANCE |
| 2012 | Victrelis | MERCK & Cie | BEST PHARMACEUTICAL PRODUCT | INFECTIOLOGY | UNITED KINGDOM |
| 2012 | Victrelis | MERCK & Cie | BEST PHARMACEUTICAL PRODUCT | INFECTIOLOGY | USA |
| 2012 | Gilenya | NOVARTIS | BEST PHARMACEUTICAL PRODUCT | NEUROLOGY | GERMANY |
| 2012 | Gilenya | NOVARTIS | BEST PHARMACEUTICAL PRODUCT | NEUROLOGY | ITALY |
| 2012 | Prevenar 13 | PFIZER | BEST VACCINE | PNEUMOLOGY | POLAND |
| 2012 | Zelboraf | ROCHE | BEST PHARMACEUTICAL PRODUCT | HEMATOLOGY/ONCOLOGY | GERMANY |
| 2012 | Valdoxan | SERVIER | BEST PHARMACEUTICAL PRODUCT | NEUROLOGY | ITALY |
| 2012 | Whole Research | SOFIA FRANCIA | BEST PHARMACEUTICAL PRODUCT | HEMATOLOGY/ONCOLOGY | ITALY |
| 2012 | Inn-Mifamurtide | TAKEDA | BEST PHARMACEUTICAL PRODUCT | HEMATOLOGY/ONCOLOGY | UNITED KINGDOM |
| 2013 | nPlate | AMGEN | BEST BIOTECHNOLOGY PRODUCT | ORPHAN RARE | GREECE |
| 2013 | Yervoy | BRISTOL-MYERS SQUIBB | BEST BIOTECHNOLOGY PRODUCT | HEMATOLOGY/ONCOLOGY | CANADA |
| 2013 | Alimta | ELI LILLY | BEST PHARMACEUTICAL PRODUCT | HEMATOLOGY/ONCOLOGY | THE NETHERLANDS |
| 2013 | Zostavax | MERCK & Cie | BEST VACCINE | DERMATOLOGY | USA |
| 2013 | Xifaxan | NORGINE GmBH | BEST PHARMACEUTICAL PRODUCT | HEPATOLOGY GASTRO-ENTEROLOGY | GERMANY |
| 2013 | Lucentis | NOVARTIS | BEST BIOTECHNOLOGY PRODUCT | OPHTHALMOLOGY | RUSSIA |
| 2013 | Gilenya | NOVARTIS | BEST PHARMACEUTICAL PRODUCT | NEUROLOGY | GREECE |
| 2013 | Bexsero | NOVARTIS | BEST VACCINE | IMMUNOLOGY | FRANCE |
| 2013 | Xalkori | PFIZER | BEST PHARMACEUTICAL PRODUCT | HEMATOLOGY/ONCOLOGY | BELGIUM / LUXEMBURG |
| 2013 | Adcetris | PFIZER | BEST PHARMACEUTICAL PRODUCT | ORPHAN RARE | RUSSIA |
| 2013 | Perjeta | ROCHE | BEST PHARMACEUTICAL PRODUCT | HEMATOLOGY/ONCOLOGY | GERMANY |
| 2013 | Zelboraf | ROCHE | BEST PHARMACEUTICAL PRODUCT | HEMATOLOGY/ONCOLOGY | GERMANY |
| 2013 | Roactemra | ROCHE | BEST PHARMACEUTICAL PRODUCT | RHUMATOLOGY | GREECE |
| 2013 | Zelboraf | ROCHE | BEST PHARMACEUTICAL PRODUCT | HEMATOLOGY/ONCOLOGY | SWITZERLAND |
| 2013 | Zelboraf | ROCHE | BEST PHARMACEUTICAL PRODUCT | HEMATOLOGY/ONCOLOGY | USA |
| 2013 | Zelboraf | ROCHE | BEST PHARMACEUTICAL PRODUCT | HEMATOLOGY/ONCOLOGY | USA |
| 2013 | Cobas | ROCHE | BEST MEDICAL TECHNOLOGY | GYNECOGOLY | GREECE |
| 2013 | Mozobil | SANOFI | BEST PHARMACEUTICAL PRODUCT | HEMATOLOGY/ONCOLOGY | GREECE |
| 2013 | Kalydeco | VERTEX PHARMACEUTICALS | BEST PHARMACEUTICAL PRODUCT | ORPHAN RARE | FRANCE |
| 2013 | Kalydeco | VERTEX PHARMACEUTICALS | BEST PHARMACEUTICAL PRODUCT | ORPHAN RARE | GERMANY |
| 2013 | Kalydeco | VERTEX PHARMACEUTICALS | BEST PHARMACEUTICAL PRODUCT | ORPHAN RARE | THE NETHERLANDS |
| 2014 | Brilinta | ASTRAZENECA | BEST PHARMACEUTICAL PRODUCT | CARDIOLOGY | RUSSIA |
| 2014 | Tecfidera | BIOGEN | BEST PHARMACEUTICAL PRODUCT | NEUROLOGY | GERMANY |
| 2013 | S-ICD system Subcutaneous implantation defibrillator | BOSTON SCIENTIFIC | BEST MEDICAL TECHNOLOGY | CARDIOLOGY | USA |
| 2014 | Orphacol | CTRS | BEST PHARMACEUTICAL PRODUCT | HEPATOLOGY GASTRO-ENTEROLOGY | FRANCE |
| 2014 | Diaskintest | GENERIUM | BEST MEDICAL TECHNOLOGY | PNEUMOLOGY | RUSSIA |
| 2014 | Solvadi | GILEAD SCIENCES | BEST PHARMACEUTICAL PRODUCT | INFECTIOLOGY | GERMANY |
| 2014 | Solvadi | GILEAD SCIENCES | BEST PHARMACEUTICAL PRODUCT | INFECTIOLOGY | POLAND |
| 2014 | Solvadi | GILEAD SCIENCES | BEST PHARMACEUTICAL PRODUCT | INFECTIOLOGY | USA |
| 2014 | Sirturo | JOHNSON AND JOHNSON | BEST PHARMACEUTICAL PRODUCT | PNEUMOLOGY | GERMANY |
| 2014 | Incivo | JOHNSON AND JOHNSON | BEST PHARMACEUTICAL PRODUCT | INFECTIOLOGY | INTERNATIONAL |
| 2014 | Victrelis | MERCK & Cie | BEST PHARMACEUTICAL PRODUCT | INFECTIOLOGY | INTERNATIONAL |
| 2014 | Zostavax | MERCK & Cie | BEST VACCINE | DERMATOLOGY | USA |
| 2014 | Ilaris | NOVARTIS | BEST PHARMACEUTICAL PRODUCT | RHUMATOLOGY | FRANCE |
| 2014 | Gilenya | NOVARTIS | BEST PHARMACEUTICAL PRODUCT | NEUROLOGY | SWITZERLAND |
| 2014 | Bexsero | NOVARTIS | BEST VACCINE | IMMUNOLOGY | ITALY |
| 2014 | Bexsero | NOVARTIS | BEST VACCINE | IMMUNOLOGY | POLAND |
| 2014 | Bexsero | NOVARTIS | BEST VACCINE | IMMUNOLOGY | UNITED KINGDOM |
| 2014 | Prevenar 13 | PFIZER | BEST VACCINE | PNEUMOLOGY | RUSSIA |
| 2014 | Hemangiol | PIERRE FABRE | BEST PHARMACEUTICAL PRODUCT | DERMATOLOGY | FRANCE |
| 2014 | Kadcyla | ROCHE | BEST BIOTECHNOLOGY PRODUCT | HEMATOLOGY/ONCOLOGY | BELGIUM / LUXEMBURG |
| 2014 | Esbriet | ROCHE | BEST PHARMACEUTICAL PRODUCT | PNEUMOLOGY | CANADA |
| 2014 | Cobas | ROCHE | BEST MEDICAL TECHNOLOGY | GYNECOGOLY | RUSSIA |
| 2014 | Trevo | STRYKER | BEST MEDICAL TECHNOLOGY | NEUROLOGY | USA |
| 2014 | Adcetris | TAKEDA | BEST PHARMACEUTICAL PRODUCT | ORPHAN RARE | POLAND |
| 2014 | Kalydeco | VERTEX PHARMACEUTICALS | BEST PHARMACEUTICAL PRODUCT | ORPHAN RARE | INTERNATIONAL |
| 2014 | Kalydeco | VERTEX PHARMACEUTICALS | BEST PHARMACEUTICAL PRODUCT | ORPHAN RARE | UNITED KINGDOM |
| 2015 | Opsumit | ACTELION | BEST PHARMACEUTICAL PRODUCT | CARDIOLOGY | GREECE |
| 2015 | Xgeva | AMGEN | BEST BIOTECHNOLOGY PRODUCT | HEMATOLOGY/ONCOLOGY | GREECE |
| 2015 | Xofigo | BAYER | BEST PHARMACEUTICAL PRODUCT | HEMATOLOGY/ONCOLOGY | GERMANY |
| 2015 | Giotrif | BOEHRINGER-INGELHEIM | BEST BIOTECHNOLOGY PRODUCT | HEMATOLOGY/ONCOLOGY | CANADA |
| 2015 | S-ICD | BOSTON SCIENTIFIC | BEST MEDICAL TECHNOLOGY | CARDIOLOGY | BELGIUM / LUXEMBURG |
| 2015 | Opdivo | BRISTOL-MYERS SQUIBB | BEST BIOTECHNOLOGY PRODUCT | HEMATOLOGY/ONCOLOGY | ITALY |
| 2015 | Opdivo | BRISTOL-MYERS SQUIBB | BEST BIOTECHNOLOGY PRODUCT | HEMATOLOGY/ONCOLOGY | POLAND |
| 2015 | Opdivo | BRISTOL-MYERS SQUIBB | BEST BIOTECHNOLOGY PRODUCT | HEMATOLOGY/ONCOLOGY | USA |
| 2015 | Solvadi | GILEAD SCIENCES | BEST PHARMACEUTICAL PRODUCT | HEPATOLOGY GASTRO ENTEROLOGY | GREECE |
| 2015 | Imbruvica | JOHNSON AND JOHNSON | BEST PHARMACEUTICAL PRODUCT | HEMATOLOGY/ONCOLOGY | FRANCE |
| 2015 | Sirturo | JOHNSON AND JOHNSON | BEST PHARMACEUTICAL PRODUCT | PNEUMOLOGY | THE NETHERLANDS |
| 2015 | Imbruvica | JOHNSON AND JOHNSON | BEST PHARMACEUTICAL PRODUCT | HEMATOLOGY/ONCOLOGY | USA |
| 2015 | Selingro | LUNDBECK | BEST PHARMACEUTICAL PRODUCT | ADDICTOLOGY | GERMANY |
| 2015 | Keytruda | MERCK & Cie | BEST BIOTECHNOLOGY PRODUCT | HEMATOLOGY/ONCOLOGY | ITALY |
| 2015 | Keytruda | MERCK & Cie | BEST BIOTECHNOLOGY PRODUCT | HEMATOLOGY/ONCOLOGY | USA |
| 2015 | Erivedge | ROCHE | BEST BIOTECHNOLOGY PRODUCT | HEMATOLOGY/ONCOLOGY | GREECE |
| 2015 | Perjeta | ROCHE | BEST PHARMACEUTICAL PRODUCT | HEMATOLOGY/ONCOLOGY | POLAND |
| 2015 | 6-in-1 infant vaccine | SANOFI | BEST VACCINE | IMMUNOLOGY | POLAND |
| 2015 | Miyabi | SIEMENS HEALTHCARE HELLAS | BEST MEDICAL TECHNOLOGY | | GREECE |
| 2015 | T2Candida | T2 BIOSYSTEMS | BEST MEDICAL TECHNOLOGY | HEPATOLOGY GASTRO ENTEROLOGY | USA |
| 2015 | Adcetris | TAKEDA | BEST PHARMACEUTICAL PRODUCT | ORPHAN RARE | SWITZERLAND |
| 2016 | Autotest VIH | AAZ | BEST MEDICAL TECHNOLOGY | INFECTIOLOGY | FRANCE |
| 2016 | Autotest VIH | AAZ | BEST MEDICAL TECHNOLOGY | IMMUNOLOGY | FRANCE |
| 2016 | Absorb | ABBOTT | BEST PHARMACEUTICAL PRODUCT | CARDIOLOGY | RUSSIA |
| 2016 | Kanuma | ALEXION | BEST PHARMACEUTICAL PRODUCT | ENDOCRINOLOGY | GERMANY |
| 2016 | Blincyto | AMGEN | BEST BIOTECHNOLOGY PRODUCT | HEMATOLOGY/ONCOLOGY | POLAND |
| 2016 | Blincyto | AMGEN | BEST BIOTECHNOLOGY PRODUCT | HEMATOLOGY/ONCOLOGY | RUSSIA |
| 2016 | Idylla | BIOCARTIS | BEST MEDICAL TECHNOLOGY | HEMATOLOGY/ONCOLOGY | BELGIUM / LUXEMBURG |
| 2016 | Empagliflozin | BOEHRINGER INGELHEIM | BEST PHARMACEUTICAL PRODUCT | CARDIOLOGY | POLAND |
| 2016 | Opdivo | BRISTOL-MYERS SQUIBB | BEST BIOTECHNOLOGY PRODUCT | HEMATOLOGY/ONCOLOGY | BELGIUM / LUXEMBURG |
| 2016 | Opdivo | BRISTOL-MYERS SQUIBB | BEST BIOTECHNOLOGY PRODUCT | HEMATOLOGY/ONCOLOGY | FRANCE |
| 2016 | Yervoy | BRISTOL-MYERS SQUIBB | BEST BIOTECHNOLOGY PRODUCT | HEMATOLOGY/ONCOLOGY | RUSSIA |
| 2016 | Yervoy | BRISTOL-MYERS SQUIBB | DISCOVERY OF THE DECADE | HEMATOLOGY/ONCOLOGY | USA |
| 2016 | Ex vivo expanded autologous human corneal epithelial cells | CHIESI | BEST PHARMACEUTICAL PRODUCT | OPHTHALMOLOGY | THE NETHERLANDS |
| 2016 | Ex vivo expanded autologous human corneal epithelial cells | CHIESI | BEST PHARMACEUTICAL PRODUCT | OPHTHALMOLOGY | UNITED KINGDOM |
| 2016 | Orphacol | CTRS | BEST PHARMACEUTICAL PRODUCT | HEPATOLOGY GASTRO-ENTEROLOGY | INTERNATIONAL |
| 2016 | Focal One | EDAP TMS | BEST MEDICAL TECHNOLOGY | UROLOGY | FRANCE |
| 2016 | Focal One | EDAP TMS | BEST MEDICAL TECHNOLOGY | HEMATOLOGY/ONCOLOGY | FRANCE |
| 2016 | Sapien3 | EDWARDS LIFESCIENCES | DISCOVERY OF THE DECADE | CARDIOLOGY | USA |
| 2016 | Cologuard | EXACT SCIENCES | BEST MEDICAL TECHNOLOGY | HEPATOLOGY GASTRO ENTEROLOGY | USA |
| 2016 | Harvoni | GILEAD SCIENCES | BEST PHARMACEUTICAL PRODUCT | HEPATOLOGY GASTRO-ENTEROLOGY | CANADA |
| 2016 | Sirturo | JOHNSON AND JOHNSON | BEST PHARMACEUTICAL PRODUCT | PNEUMOLOGY | INTERNATIONAL |
| 2016 | Imbruvica | JOHNSON AND JOHNSON | BEST PHARMACEUTICAL PRODUCT | HEMATOLOGY/ONCOLOGY | POLAND |
| 2016 | Imbruvica | JOHNSON AND JOHNSON | BEST PHARMACEUTICAL PRODUCT | HEMATOLOGY/ONCOLOGY | RUSSIA |
| 2016 | Nalméfène | LUNDBECK | BEST PHARMACEUTICAL PRODUCT | ADDICTOLOGY | FRANCE |
| 2016 | Keytruda | MERCK & Cie | BEST BIOTECHNOLOGY PRODUCT | HEMATOLOGY/ONCOLOGY | BELGIUM / LUXEMBURG |
| 2016 | Keytruda | MERCK & Cie | BEST BIOTECHNOLOGY PRODUCT | HEMATOLOGY/ONCOLOGY | INTERNATIONAL |
| 2016 | Keytruda | MERCK & Cie | BEST BIOTECHNOLOGY PRODUCT | HEMATOLOGY/ONCOLOGY | POLAND |
| 2016 | Keytruda | MERCK & Cie | BEST PHARMACEUTICAL PRODUCT | HEMATOLOGY/ONCOLOGY | FRANCE |
| 2016 | 9-valent accine against human papillomavirus recombined adsorbed | MERCK & Cie | BEST VACCINE | INFECTIOLOGY | POLAND |
| 2016 | Cosentyx | NOVARTIS | BEST MEDICAL TECHNOLOGY | DERMATOLOGY | USA |
| 2016 | Entresto | NOVARTIS | BEST PHARMACEUTICAL PRODUCT | CARDIOLOGY | UNITED KINGDOM |
| 2016 | Gleevec | NOVARTIS | DISCOVERY OF THE DECADE | HEMATOLOGY/ONCOLOGY | USA |
| 2016 | Cosentyx | NOVARTIS | BEST PHARMACEUTICAL PRODUCT | DERMATOLOGY | SWITZERLAND |
| 2016 | Ibrance | PFIZER | BEST PHARMACEUTICAL PRODUCT | HEMATOLOGY/ONCOLOGY | BELGIUM / LUXEMBURG |
| 2016 | Ibrance | PFIZER | BEST PHARMACEUTICAL PRODUCT | HEMATOLOGY/ONCOLOGY | USA |
| 2016 | Translarna | PTC THERAPEUTICS | BEST BIOTECHNOLOGY PRODUCT | ORPHAN RARE | FRANCE |
| 2016 | Ataluren | PTC THERAPEUTICS | BEST PHARMACEUTICAL PRODUCT | ORPHAN RARE | FRANCE |
| 2016 | Whole Research | SERVIER | BEST PHARMACEUTICAL PRODUCT | CARDIOLOGY | POLAND |
| 2016 | Pico | SMITH & NEPHEW | BEST MEDICAL TECHNOLOGY | DERMATOLOGY | FRANCE |
| 2016 | Pico | SMITH & NEPHEW | BEST MEDICAL TECHNOLOGY | DERMATOLOGY | FRANCE |
| 2016 | Entyvio | TAKEDA | BEST PHARMACEUTICAL PRODUCT | HEPATOLOGY GASTRO ENTEROLOGY | CANADA |
| 2016 | Orkambi | VERTEX PHARMACEUTICALS | BEST PHARMACEUTICAL PRODUCT | PNEUMOLOGY | FRANCE |
| 2016 | Orkambi | VERTEX PHARMACEUTICALS | BEST PHARMACEUTICAL PRODUCT | PNEUMOLOGY | FRANCE |
| 2017 | Venclexta | ABBVIE | BEST PHARMACEUTICAL PRODUCT | HEMATOLOGY/ONCOLOGY | GERMANY |
| 2017 | Venclexta | ABBVIE | BEST PHARMACEUTICAL PRODUCT | HEMATOLOGY/ONCOLOGY | USA |
| 2017 | Repatha | AMGEN | BEST PHARMACEUTICAL PRODUCT | CARDIOLOGY | SWITZERLAND |
| 2017 | Tagrisso | ASTRAZENECA | BEST PHARMACEUTICAL PRODUCT | HEMATOLOGY/ONCOLOGY | GREECE |
| 2017 | Phoenix | BECTON DICKINSON | BEST MEDICAL TECHNOLOGY | PNEUMOLOGY | BELGIUM / LUXEMBURG |
| 2017 | Spinraza | BIOGEN | BEST BIOTECHNOLOGY PRODUCT | ORPHAN RARE | BELGIUM / LUXEMBURG |
| 2017 | Spinraza | BIOGEN | BEST BIOTECHNOLOGY PRODUCT | ORPHAN RARE | USA |
| 2017 | Ofev | BOEHRINGER INGELHEIM | BEST BIOTECHNOLOGY PRODUCT | ORPHAN RARE | GREECE |
| 2017 | Praxbind | BOEHRINGER INGELHEIM | BEST BIOTECHNOLOGY PRODUCT | HEMATOLOGY/ONCOLOGY | ITALY |
| 2017 | Opdivo | BRISTOL-MYERS SQUIBB | BEST BIOTECHNOLOGY PRODUCT | HEMATOLOGY/ONCOLOGY | GREECE |
| 2017 | Holoclar | CHIESI | BEST PHARMACEUTICAL PRODUCT | ORPHAN RARE | THE NETHERLANDS |
| 2017 | EOS | EOS IMAGING | BEST MEDICAL TECHNOLOGY | RHUMATOLOGY | FRANCE |
| 2017 | Strimvelis | GSK | BEST BIOTECHNOLOGY PRODUCT | IMMUNOLOGY | ITALY |
| 2017 | Strimvelis | GSK | BEST BIOTECHNOLOGY PRODUCT | IMMUNOLOGY | THE NETHERLANDS |
| 2017 | Exablate Neuro | INSIGHTEC | BEST MEDICAL TECHNOLOGY | NEUROLOGY | USA |
| 2017 | Ocaliva | INTERCEPT PHARMACEUTICALS | BEST BIOTECHNOLOGY PRODUCT | IMMUNOLOGY | ITALY |
| 2017 | Spinraza | IONIS PHARMACEUTICALS | BEST BIOTECHNOLOGY PRODUCT | ORPHAN RARE | USA |
| 2017 | Darzalex | JOHNSON AND JOHNSON | BEST BIOTECHNOLOGY PRODUCT | HEMATOLOGY/ONCOLOGY | FRANCE |
| 2017 | Keytruda | MERCK & Cie | BEST BIOTECHNOLOGY PRODUCT | HEMATOLOGY/ONCOLOGY | CANADA |
| 2017 | Keytruda | MERCK & Cie | BEST BIOTECHNOLOGY PRODUCT | HEMATOLOGY/ONCOLOGY | GREECE |
| 2017 | Gardasil | MERCK & Cie | BEST VACCINE | GYNECOGOLY | ITALY |
| 2017 | Gardasil | MERCK & Cie | BEST VACCINE | GYNECOGOLY | ITALY |
| 2017 | Entresto | NOVARTIS | BEST PHARMACEUTICAL PRODUCT | CARDIOLOGY | FRANCE |
| 2017 | Entresto | NOVARTIS | BEST PHARMACEUTICAL PRODUCT | CARDIOLOGY | GERMANY |
| 2017 | Gilenya | NOVARTIS | BEST PHARMACEUTICAL PRODUCT | NEUROLOGY | ITALY |
| 2017 | Gilenya | NOVARTIS | BEST PHARMACEUTICAL PRODUCT | IMMUNOLOGY | ITALY |
| 2017 | Cobas | ROCHE | BEST MEDICAL TECHNOLOGY | GYNECOGOLY | GREECE |
| 2017 | Venclexta | ROCHE | BEST PHARMACEUTICAL PRODUCT | HEMATOLOGY/ONCOLOGY | USA |
| 2017 | Revestive | SHIRE PHARMACEUTICALS | BEST BIOTECHNOLOGY PRODUCT | HEPATOLOGY GASTRO ENTEROLOGY | FRANCE |
| 2017 | Clairial | SVR | BEST PHARMACEUTICAL PRODUCT | DERMATOLOGY | FRANCE |
| 2017 | Cinqaero | TEVA | BEST PHARMACEUTICAL PRODUCT | PNEUMOLOGY | GERMANY |
| 2018 | Autotest VIH | AAZ | BEST MEDICAL TECHNOLOGY | IMMUNOLOGY | INTERNATIONAL |
| 2018 | Idhifa | AGIOS | BEST PHARMACEUTICAL PRODUCT | HEMATOLOGY/ONCOLOGY | USA |
| 2018 | Galafold | AMICUS | BEST PHARMACEUTICAL PRODUCT | NEUROLOGY | UNITED KINGDOM |
| 2018 | Spinraza | BIOGEN | BEST BIOTECHNOLOGY PRODUCT | ORPHAN RARE | FRANCE |
| 2018 | Spinraza | BIOGEN | BEST BIOTECHNOLOGY PRODUCT | ORPHAN RARE | GERMANY |
| 2018 | Spinraza | BIOGEN | BEST BIOTECHNOLOGY PRODUCT | ORPHAN RARE | INTERNATIONAL |
| 2018 | Spinraza | BIOGEN | BEST BIOTECHNOLOGY PRODUCT | ORPHAN RARE | UNITED KINGDOM |
| 2018 | Jardiance | BOEHRINGER INGELHEIM | BEST PHARMACEUTICAL PRODUCT | ENDOCRINOLOGY | INTERNATIONAL |
| 2018 | Watchman | BOSTON SCIENTIFIC | BEST MEDICAL TECHNOLOGY | CARDIOLOGY | USA |
| 2018 | Opdivo | BRISTOL-MYERS SQUIBB | BEST BIOTECHNOLOGY PRODUCT | HEMATOLOGY/ONCOLOGY | SWITZERLAND |
| 2018 | Idhifa | CELGENE | BEST PHARMACEUTICAL PRODUCT | HEMATOLOGY/ONCOLOGY | USA |
| 2018 | Holoclar | CHIESI | BEST PHARMACEUTICAL PRODUCT | ORPHAN RARE | GERMANY |
| 2018 | Hemlibra | CHUGAI | BEST PHARMACEUTICAL PRODUCT | IMMUNOLOGY | FRANCE |
| 2018 | Hemlibra | CHUGAI | BEST PHARMACEUTICAL PRODUCT | IMMUNOLOGY | GERMANY |
| 2018 | Yescarta | GILEAD SCIENCES | BEST BIOTECHNOLOGY PRODUCT | ORPHAN RARE | USA |
| 2018 | Solitaire | MEDTRONIC | BEST MEDICAL TECHNOLOGY | CARDIOLOGY | UNITED KINGDOM |
| 2018 | Zinplava | MERCK & Cie | BEST PHARMACEUTICAL PRODUCT | INFECTIOLOGY | GERMANY |
| 2018 | Kymriah | NOVARTIS | BEST BIOTECHNOLOGY PRODUCT | ORPHAN RARE | USA |
| 2018 | Entresto | NOVARTIS | BEST PHARMACEUTICAL PRODUCT | CARDIOLOGY | CANADA |
| 2018 | Entresto | NOVARTIS | BEST PHARMACEUTICAL PRODUCT | CARDIOLOGY | SWITZERLAND |
| 2018 | Prima | PIXIUM VISION | BEST MEDICAL TECHNOLOGY | OPHTHALMOLOGY | FRANCE |
| 2018 | Hemlibra | ROCHE | BEST PHARMACEUTICAL PRODUCT | IMMUNOLOGY | FRANCE |
| 2018 | Hemlibra | ROCHE | BEST PHARMACEUTICAL PRODUCT | IMMUNOLOGY | GERMANY |
| 2018 | Urgostart | URGO MEDICAL | BEST MEDICAL TECHNOLOGY | DERMATOLOGY | FRANCE |
| 2019 | FreeStyle Libre 14 Day Flash Glucose Monitoring System | ABBOTT | BEST MEDICAL TECHNOLOGY | ENDOCRINOLOGY | USA |
| 2019 | Onpattro | ALNYLAM PHARMACEUTICALS | BEST BIOTECHNOLOGY PRODUCT | ORPHAN RARE | ITALY |
| 2019 | Onpattro | ALNYLAM PHARMACEUTICALS | BEST BIOTECHNOLOGY PRODUCT | ORPHAN RARE | THE NETHERLANDS |
| 2019 | Lymparza | ASTRAZENECA | BEST PHARMACEUTICAL PRODUCT | UROLOGY | GREECE |
| 2019 | Tagrisso | ASTRAZENECA | DISCOVERY OF THE LAST FIVE YEARS | HEMATOLOGY/ONCOLOGY | GREECE |
| 2019 | Spinraza | BIOGEN | BEST BIOTECHNOLOGY PRODUCT | ORPHAN RARE | SWITZERLAND |
| 2019 | Ofev | BOEHRINGER INGELHEIM | DISCOVERY OF THE LAST FIVE YEARS | ORPHAN RARE | GREECE |
| 2019 | Jardiance | BOEHRINGER-INGELHEIM | BEST PHARMACEUTICAL PRODUCT | ENDOCRINOLOGY | SWITZERLAND |
| 2019 | EarlySense | DEVICES4CARE | BEST DIGITAL HEALTH SOLUTION | | THE NETHERLANDS |
| 2019 | Yescarta | GILEAD SCIENCES | BEST BIOTECHNOLOGY PRODUCT | ORPHAN RARE | BELGIUM / LUXEMBURG |
| 2019 | Yescarta | GILEAD SCIENCES | BEST BIOTECHNOLOGY PRODUCT | ORPHAN RARE | FRANCE |
| 2019 | Yescarta | GILEAD SCIENCES | BEST BIOTECHNOLOGY PRODUCT | ORPHAN RARE | GERMANY |
| 2019 | Shingrix | GSK | BEST VACCINE | DERMATOLOGY | CANADA |
| 2019 | Shingrix | GSK | BEST VACCINE | DERMATOLOGY | GERMANY |
| 2019 | Shingrix | GSK | BEST VACCINE | DERMATOLOGY | USA |
| 2019 | Zostavax | MERCK & Cie | BEST VACCINE | DERMATOLOGY | ITALY |
| 2019 | Keytruda | MERCK & Cie | DISCOVERY OF THE LAST FIVE YEARS | HEMATOLOGY/ONCOLOGY | GREECE |
| 2019 | Hensify | NANOBIOTIX | BEST PHARMACEUTICAL PRODUCT | HEMATOLOGY/ONCOLOGY | FRANCE |
| 2019 | Kymriah | NOVARTIS | BEST BIOTECHNOLOGY PRODUCT | ORPHAN RARE | BELGIUM / LUXEMBURG |
| 2019 | Kymriah | NOVARTIS | BEST BIOTECHNOLOGY PRODUCT | ORPHAN RARE | FRANCE |
| 2019 | Luxturna | NOVARTIS | BEST BIOTECHNOLOGY PRODUCT | OPHTHALMOLOGY | FRANCE |
| 2019 | Kymriah | NOVARTIS | BEST BIOTECHNOLOGY PRODUCT | ORPHAN RARE | GERMANY |
| 2019 | Kymriah | NOVARTIS | BEST BIOTECHNOLOGY PRODUCT | ORPHAN RARE | GREECE |
| 2019 | Kisqali | NOVARTIS | BEST BIOTECHNOLOGY PRODUCT | HEMATOLOGY/ONCOLOGY | ITALY |
| 2019 | Luxturna | NOVARTIS | BEST BIOTECHNOLOGY PRODUCT | OPHTHALMOLOGY | ITALY |
| 2019 | Rydapt | NOVARTIS | BEST BIOTECHNOLOGY PRODUCT | HEMATOLOGY/ONCOLOGY | SWITZERLAND |
| 2019 | Luxturna | NOVARTIS | BEST BIOTECHNOLOGY PRODUCT | OPHTHALMOLOGY | USA |
| 2019 | Zavicefta | PFIZER | BEST PHARMACEUTICAL PRODUCT | INFECTIOLOGY | GREECE |
| 2019 | Reagila | RECORDATI PHARMA | BEST PHARMACEUTICAL PRODUCT | NEUROLOGY | GERMANY |
| 2019 | Foundationone | ROCHE | BEST MEDICAL TECHNOLOGY | HEMATOLOGY/ONCOLOGY | GREECE |
| 2019 | Hemlibra | ROCHE | BEST PHARMACEUTICAL PRODUCT | IMMUNOLOGY | ITALY |
| 2019 | Dupixent | SANOFI | BEST BIOTECHNOLOGY PRODUCT | ORPHAN RARE | FRANCE |
| 2019 | Nexaris | SIEMENS HEALTHINEERS | DISCOVERY OF THE LAST FIVE YEARS | CARDIOLOGY | GREECE |
| 2019 | Da Vinci | SOFMEDICA | BEST MEDICAL TECHNOLOGY | | GREECE |
| 2019 | Magseed/Magtrace | SYSMEX | BEST MEDICAL TECHNOLOGY | GYNECOGOLY | BELGIUM / LUXEMBURG |
| 2019 | Adcetris | TAKEDA | BEST PHARMACEUTICAL PRODUCT | ORPHAN RARE | GREECE |
| 2020 | MitraClipTranscatheter Mitral Valve Repair System | ABBOTT | BEST MEDICAL TECHNOLOGY | CARDIOLOGY | USA |
| 2020 | Venclyxto | ABBVIE | BEST PHARMACEUTICAL PRODUCT | HEMATOLOGY/ONCOLOGY | SWITZERLAND |
| 2020 | Onpattro | ALNYLAM PHARMACEUTICALS | BEST BIOTECHNOLOGY PRODUCT | ORPHAN RARE | FRANCE |
| 2020 | Onpattro | ALNYLAM PHARMACEUTICALS | BEST BIOTECHNOLOGY PRODUCT | ORPHAN RARE | USA |
| 2020 | Vitrakvi | BAYER | BEST PHARMACEUTICAL PRODUCT | HEMATOLOGY/ONCOLOGY | THE NETHERLANDS |
| 2020 | Comirnaty | BioNTech | BEST BIOTECHNOLOGY PRODUCT | COVID-19 | THE NETHERLANDS |
| 2020 | Strip-SRobot 44 | GENMAB / HUBRECHT | BEST MEDICAL TECHNOLOGY | | THE NETHERLANDS |
| 2020 | Hypernova Chronos | GERMITEC | BEST MEDICAL TECHNOLOGY | INFECTIOLOGY | FRANCE |
| 2020 | Tegsedi | IONIS PHARMACEUTICALS | BEST BIOTECHNOLOGY PRODUCT | ORPHAN RARE | USA |
| 2020 | Luscii app | LUSCII | BEST MEDICAL TECHNOLOGY | | THE NETHERLANDS |
| 2020 | Ervebo | MERCK & Cie | BEST VACCINE | INFECTIOLOGY | FRANCE |
| 2020 | Entresto | NOVARTIS | BEST PHARMACEUTICAL PRODUCT | CARDIOLOGY | FRANCE |
| 2020 | Aimovig | NOVARTIS | BEST PHARMACEUTICAL PRODUCT | NEUROLOGY | SWITZERLAND |
| 2020 | Rybelsus | NOVO NORDISK | BEST PHARMACEUTICAL PRODUCT | ENDOCRINOLOGY | GERMANY |
| 2020 | Somryst | PEAR THERAPEUTICS | BEST DIGITAL HEALTH SOLUTION | NEUROLOGY | USA |
| 2020 | Vyndaqel | PFIZER | BEST BIOTECHNOLOGY PRODUCT | CARDIOLOGY | USA |
| 2020 | Comirnaty | PFIZER | BEST VACCINE | COVID-19 | THE NETHERLANDS |
| 2020 | Ondexxya | PORTOLA | BEST PHARMACEUTICAL PRODUCT | HEMATOLOGY/ONCOLOGY | GERMANY |
| 2020 | Cablivi | SANOFI | BEST BIOTECHNOLOGY PRODUCT | HEMATOLOGY/ONCOLOGY | GERMANY |
| 2020 | Revestive | TAKEDA | BEST BIOTECHNOLOGY PRODUCT | ORPHAN RARE | SWITZERLAND |
| 2020 | Pretomanid | TB ALLIANCE | BEST PHARMACEUTICAL PRODUCT | PNEUMOLOGY | USA |
| 2021 | Venclyxto | ABBVIE | BEST PHARMACEUTICAL PRODUCT | HEMATOLOGY/ONCOLOGY | FRANCE |
| 2021 | AcrySof | ALCON | BEST MEDICAL TECHNOLOGY | OPHTHALMOLOGY | USA |
| 2021 | Givlaari | ALNYLAM PHARMACEUTICALS | BEST BIOTECHNOLOGY PRODUCT | HEPATOLOGY GASTRO ENTEROLOGY | GERMANY |
| 2021 | Imfinzi | ASTRAZENECA | BEST BIOTECHNOLOGY PRODUCT | HEMATOLOGY/ONCOLOGY | GREECE |
| 2021 | Comirnaty | BioNTech | BEST VACCINE | COVID-19 | FRANCE |
| 2021 | Comirnaty | BioNTech | BEST VACCINE | COVID-19 | GERMANY |
| 2021 | Saytu | DIATROPIX | BEST PHARMACEUTICAL PRODUCT | INFECTIOLOGY | AFRICA |
| 2021 | Fexinidazole | DRUGS FOR NEGLECTED DISEASES INITIATIVE DNDI | BEST PHARMACEUTICAL PRODUCT | NEUROLOGY | AFRICA |
| 2021 | Oxbryta | GLOBAL BLOOD THERAPEUTICS INC. | BEST BIOTECHNOLOGY PRODUCT | HEMATOLOGY/ONCOLOGY | USA |
| 2021 | Titan | HEXACATH | BEST MEDICAL TECHNOLOGY | CARDIOLOGY | FRANCE |
| 2021 | Huma | HUMA | BEST DIGITAL HEALTH SOLUTION | CARDIOLOGY | USA |
| 2021 | Carto | JOHNSON AND JOHNSON | BEST MEDICAL TECHNOLOGY | CARDIOLOGY | GREECE |
| 2021 | Poteligeo | KYOWA KIRIN | BEST PHARMACEUTICAL PRODUCT | DERMATOLOGY | ITALY |
| 2021 | Sistema Minimed 780G | MEDTRONIC | BEST MEDICAL TECHNOLOGY | ENDOCRINOLOGY | ITALY |
| 2021 | Gardasil | MERCK & Cie | BEST VACCINE | GYNECOGOLY | FRANCE |
| 2021 | Ervebo | MERCK & Cie | BEST VACCINE | INFECTIOLOGY | ITALY |
| 2021 | Spikevax | MODERNA | BEST VACCINE | COVID-19 | FRANCE |
| 2021 | ExoBand | MOVEO | BEST PHARMACEUTICAL PRODUCT | RHUMATOLOGY | ITALY |
| 2021 | Zolgensma | NOVARTIS | BEST BIOTECHNOLOGY PRODUCT | NEUROLOGY | GERMANY |
| 2021 | Zolgensma | NOVARTIS | BEST BIOTECHNOLOGY PRODUCT | NEUROLOGY | GREECE |
| 2021 | Zolgensma | NOVARTIS | BEST BIOTECHNOLOGY PRODUCT | NEUROLOGY | ITALY |
| 2021 | Kymriah | NOVARTIS | BEST BIOTECHNOLOGY PRODUCT | ORPHAN RARE | SWITZERLAND |
| 2021 | Luxturna | NOVARTIS | BEST BIOTECHNOLOGY PRODUCT | OPHTHALMOLOGY | THE NETHERLANDS |
| 2021 | Entresto | NOVARTIS | BEST PHARMACEUTICAL PRODUCT | CARDIOLOGY | USA |
| 2021 | Ozempic | NOVO NORDISK | BEST PHARMACEUTICAL PRODUCT | ENDOCRINOLOGY | GREECE |
| 2021 | Vyndaqel | PFIZER | BEST BIOTECHNOLOGY PRODUCT | CARDIOLOGY | FRANCE |
| 2021 | Comirnaty | PFIZER | BEST VACCINE | COVID-19 | FRANCE |
| 2021 | Comirnaty | PFIZER | BEST VACCINE | COVID-19 | GERMANY |
| 2021 | Rybelsus | ROCHE | BEST BIOTECHNOLOGY PRODUCT | HEMATOLOGY/ONCOLOGY | ITALY |
| 2021 | Wikiboop | ROCHE | BEST DIGITAL HEALTH SOLUTION | HEMATOLOGY/ONCOLOGY | FRANCE |
| 2021 | Evista | ROCHE | BEST PHARMACEUTICAL PRODUCT | NEUROLOGY | ITALY |
| 2021 | Herceptin | ROCHE / Genentech | BEST BIOTECHNOLOGY PRODUCT | HEMATOLOGY/ONCOLOGY | ITALY |
| 2021 | Cablivi | SANOFI | BEST BIOTECHNOLOGY PRODUCT | HEMATOLOGY/ONCOLOGY | SWITZERLAND |
| 2021 | Dupixent | SANOFI | BEST BIOTECHNOLOGY PRODUCT | DERMATOLOGY | SWITZERLAND |
| 2021 | Medication | SYNAPSE MEDICINE | BEST PHARMACEUTICAL PRODUCT | INFECTIOLOGY | FRANCE |
| 2021 | Alofisel | TAKEDA | BEST PHARMACEUTICAL PRODUCT | HEPATOLOGY GASTRO ENTEROLOGY | FRANCE |
| 2021 | Healico | URGO MEDICAL | BEST PHARMACEUTICAL PRODUCT | DERMATOLOGY | FRANCE |
| 2021 | Kalydeco | VERTEX PHARMACEUTICALS | BEST PHARMACEUTICAL PRODUCT | ORPHAN RARE | GREECE |
| 2021 | VRelax-glasses | VRelax | BEST MEDICAL TECHNOLOGY | OPHTHALMOLOGY | THE NETHERLANDS |
| 2022 | MitraClipTranscatheter Mitral Valve Repair System | ABBOTT | BEST MEDICAL TECHNOLOGY | CARDIOLOGY | INTERNATIONAL |
| 2022 | System Libre® Freestyle | ABBOTT | BEST MEDICAL TECHNOLOGY - JUBILEE - GOLD MEDAL | ENDOCRINOLOGY | USA |
| 2022 | FreeStyle Libre 3 System | ABBOTT | BEST DIGITAL HEALTH SOLUTION | ENDOCRINOLOGY | ITALY |
| 2022 | Humira | ABBVIE | BEST BIOTECHNOLOGY - JUBILEE - BRONZE MEDAL | | USA |
| 2022 | Akili | AKILI | BEST STARTUP / DIGITAL HEALTH SOLUTION | | USA |
| 2022 | Onpattro | ALNYLAM PHARMACEUTICALS | BEST BIOTECHNOLOGY PRODUCT | ORPHAN RARE | UNITED KINGDOM |
| 2022 | Lumakras | AMGEN | BEST PHARMACEUTICAL PRODUCT | | USA |
| 2022 | Evusheld® | ASTRAZENECA | BEST BIOTECHNOLOGY PRODUCT | | ITALY |
| 2022 | Tagrisso | ASTRAZENECA | BEST PHARMACEUTICAL PRODUCT | | ITALY |
| 2022 | Aurion Biotech | AURION BIOTECH | STARTUP / BIOTECHNOLOGY | | USA |
| 2022 | red dot V2 Clinical Analysis Software | BEHOLD.AI | BEST DIGITAL HEALTH SOLUTION | | UNITED KINGDOM |
| 2022 | Spinraza | BIOGEN / IONIS | BEST ORPHAN / RARE DISEASES PRODUCT - JUBILEE - SILVER MEDAL | | USA |
| 2022 | Biolabs | BIOLABS | INCUBATOR ACCELERATOR EQUITY | | USA |
| 2022 | Comirnaty | BioNTech | BEST VACCINE | COVID-19 | INTERNATIONAL |
| 2022 | CALA TRIO | CALA HEALTH | BEST MEDICAL TECHNOLOGY | | USA |
| 2022 | Cytosponge | CYTED LTD | BEST MEDICAL TECHNOLOGY | HEPATOLOGY GASTRO ENTEROLOGY | UNITED KINGDOM |
| 2022 | Sapien 3 THV System | EDWARDS LIFESCIENCES | BEST MEDICAL TECHNOLOGY - JUBILEE - SILVER MEDAL | | USA |
| 2022 | Exscientia | EXSCIENTIA | BEST DIGITAL HEALTH SOLUTION | | USA |
| 2022 | Augmentin | GSK | BEST PHARMACEUTICAL PRODUCT - JUBILEE - BRONZE MEDAL | | USA |
| 2022 | Huma | HUMA | BEST DIGITAL HEALTH SOLUTION | CARDIOLOGY | INTERNATIONAL |
| 2022 | Kimmtrak | IMMUNOCORE | BEST PHARMACEUTICAL PRODUCT | HEMATOLOGY/ONCOLOGY | FRANCE |
| 2022 | Pemazyre | INCYTE BIOSCIENCES | BEST PHARMACEUTICAL PRODUCT | HEPATOLOGY GASTRO-ENTEROLOGY | THE NETHERLANDS |
| 2022 | Darzalex | JOHNSON AND JOHNSON / Janssen-Cilag | BEST PHARMACEUTICAL PRODUCT | HEMATOLOGY/ONCOLOGY | FRANCE |
| 2022 | Tecartus | KITE-GILEAD | BEST BIOTECHNOLOGY PRODUCT | | ITALY |
| 2022 | Sistema Minimed 780G | MEDTRONIC | BEST MEDICAL TECHNOLOGY | ENDOCRINOLOGY | INTERNATIONAL |
| 2022 | Zocor | MERCK & Cie | BEST PHARMACEUTICAL PRODUCT - JUBILEE - SILVER MEDAL | | USA |
| 2022 | candidate 23-valent anti-pneumococcal polysaccharide vaccine | MERCK & Cie | BEST VACCINE | | ITALY |
| 2022 | GARDASIL® & GARDASIL® 9 | MERCK & Cie | BEST VACCINE - JUBILEE - GOLD MEDAL | | USA |
| 2022 | Keytruda | MERCK & Cie | JUBILEE - BEST BIOTECHNOLOGY 1970-2020 - SILVER MEDAL | | USA |
| 2022 | Spikevax | MODERNA | BEST VACCINE | COVID-19 | UNITED KINGDOM |
| 2022 | Zolgensma | NOVARTIS | BEST BIOTECHNOLOGY PRODUCT | NEUROLOGY | FRANCE |
| 2022 | Luxturna | NOVARTIS | BEST BIOTECHNOLOGY PRODUCT | OPHTHALMOLOGY | INTERNATIONAL |
| 2022 | Zolgensma | NOVARTIS | BEST BIOTECHNOLOGY PRODUCT | NEUROLOGY | THE NETHERLANDS |
| 2022 | Kymriah® | NOVARTIS | BEST ORPHAN / RARE DISEASES PRODUCT - JUBILEE - GOLD MEDAL | | USA |
| 2022 | Entresto | NOVARTIS | BEST PHARMACEUTICAL PRODUCT | CARDIOLOGY | INTERNATIONAL |
| 2022 | Gleevec | NOVARTIS | BEST PHARMACEUTICAL PRODUCT - JUBILEE - GOLD MEDAL | | USA |
| 2022 | crizanlizumab | NOVARTIS | BEST ORPHAN / RARE DISEASES PRODUCT | | ITALY |
| 2022 | Rybelsus | NOVO NORDISK | BEST PHARMACEUTICAL PRODUCT | ENDOCRINOLOGY | UNITED KINGDOM |
| 2022 | Comirnaty | PFIZER | BEST VACCINE | COVID-19 | INTERNATIONAL |
| 2022 | Prevenar 14 | PFIZER | BEST VACCINE - JUBILEE - SILVER MEDAL | | USA |
| 2022 | Presage | PRESAGE | BEST DIGITAL HEALTH SOLUTION | | FRANCE |
| 2022 | Quantum Surgical | QUANTUM SURGICAL | STARTUP / MEDICAL TECHNOLOGY | | USA |
| 2022 | Inmazeb | REGENERON PHARMACEUTICALS, INC. | BEST BIOTECHNOLOGY PRODUCT | | USA |
| 2022 | Herceptin | ROCHE / Genentech | JUBILEE - BEST BIOTECHNOLOGY 1970-2020 - GOLD MEDAL | | USA |
| 2022 | Cobas HPV test | ROCHE Diagnostics | BEST MEDICAL TECHNOLOGY - JUBILEE - BRONZE MEDAL | | USA |
| 2022 | Vaxelis 6-in-1 infant vaccine | SANOFI Pasteur MSD | BEST VACCINE - JUBILEE - BRONZE MEDAL | | USA |
| 2022 | AudioMate | SONUP | BEST DIGITAL HEALTH SOLUTION | ENT | FRANCE |
| 2022 | Takhzyro | TAKEDA | BEST PHARMACEUTICAL PRODUCT | ORPHAN RARE | CANADA |
| 2022 | Scinus | THERMO FISHER SCIENTIFIC | BEST MEDICAL TECHNOLOGY | | THE NETHERLANDS |
| 2022 | Kalydeco | VERTEX PHARMACEUTICALS | BEST ORPHAN / RARE DISEASES PRODUCT - JUBILEE - BRONZE MEDAL | | USA |
| 2022 | Vidal Ma santé | VIDAL | BEST DIGITAL HEALTH SOLUTION | | FRANCE |
| 2022 | Endotest | ZIWIG | BEST MEDICAL TECHNOLOGY | GYNECOGOLY | FRANCE |
| 2009 | Cell Search | JOHNSON & JOHNSON | BEST MEDICAL TECHNOLOGY | | USA |
| 2010 | Xtag | LUMINEX | BEST MEDICAL TECHNOLOGY | | USA |
| 1984 | Ketoconazole | JOHNSON & JOHNSON / Janssen | BEST PHARMACEUTICAL PRODUCT | DERMATOLOGY | BELGIUM / LUXEMBURG |
| 1985 | Urokinase | GRUNENTHAL | BEST PHARMACEUTICAL PRODUCT | UROLOGGY | GERMANY |
| 2007 | Trpc6 | NOVARTIS | BEST PHARMACEUTICAL | PNEUMOLOGY | GERMANY |
| 2007 | Trpc6 | VERTEX PHARMACEUTICALS | BEST PHARMACEUTICAL | PNEUMOLOGY | GERMANY |
| 2015 | Works on Brain Diseases | JOHNSON & JOHNSON / Janssen | BEST PHARMACEUTICAL | NEUROLOGY | BELGIUM / LUXEMBURG |
| 2023 | Zolgensma | NOVARTIS | BEST BIOTECHNOLOGY PRODUCT | NEUROLOGY | UK |
| 2023 | Bimzelx | UCB | BEST BIOTECHNOLOGY PRODUCT | DERMATOLOGY | UK |
| 2023 | Exscientia's end-to-end AI-driven precision medicine platform | EXSCIENTIA | BEST DIGITAL HEALTH SOLUTION | INTERNAL MEDICINE | UK |
| 2023 | Guardant360 CDx | GUARDANT HEALTH | BEST MEDICAL TECHNOLOGY | HEMATOLOGY/ONCOLOGY | UK |
| 2023 | Jardiance | BOEHRINGER INGELHEIM | BEST PHARMACEUTICAL PRODUCT | ENDOCRINOLOGY | UK |
| 2023 | Idefirix | HANSA BIOPHARMA AB | BEST PHARMACEUTICAL PRODUCT | IMMUNOLOGY | UK |